A '9 To 5' Sequel Is Happening And It's The Good News We Deserve
by Julie Scagell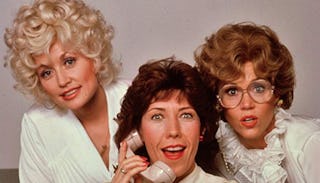 Image via Fox/IMDB
All three original female leads are said to be joining the sequel
Hold on to your rat poison folks; the cult classic 1980's movie 9 to 5 is officially being made into a sequel and all three powerhouses — Jane Fonda, Lily Tomlin, and Dolly Parton have signed on to be in it because, dammit, we deserve this right now.
For those of you who haven't seen this classic (please, for the love of god stop what you're doing and watch it immediately), the three legends all play secretaries working for smarmy Mr. Franklin Hart (played by Dabney Coleman), their egotistical, lying, slime-ball boss. While he sexually harasses Miss Doralee Rhodes (Parton), the trio continuously get overlooked for promotions, have their ideas passed off by men, and get degraded and humiliated on the daily.
Weird, that doesn't sound familiar at all.
After a particularly bad day, they find themselves drunk and high, plotting Coleman's demise, which is made easier when Fonda accidentally fills Coleman's coffee with rat poison and they end up having to kidnap him to save their asses.
While they consider their options, they end up running the office in his absence and implementing things like flexible schedules, a job-share program, an on-site daycare center, oh, and equal pay. Through it all they whip out some of the best one-liners in the history of film and manage to squeeze in the most eloquent use of the phrase "piss off," ever.
Fonda said she will serve as the film's executive producer, as well as appear in it, to what extent it's not yet clear, but my vote would be every scene, please. "My involvement is an executive producer and together with Lily, we're working with the writers," Fonda told reporters at a Television Critics Association press tour. "Right now, Dolly, Lily and I are all intending to be in it," People reports.
The plan for the upcoming sequel will center around the #Metoo movement and the continued issues women face in the workplace. "If the film doesn't do that," Fonda told Variety, "I'm not going to be in it."
The 80-year-old actress and philanthropist also said she believes the situation is even worse today than what women faced 30 years ago because many companies outsource employees and hire independent workers, making it even harder for women to come forward. "Today, a lot of the workforce [is] hired by an outside company, so if there's a problem, who do you complain to? Who do you fight with?" she said.
With three forces of nature like Fonda, Tomlin, and Parton, this is one sequel that's bound to be as good as the original. We can't wait.
This article was originally published on