These 9 Families Living In RVs Will Make You Want To Hit The Road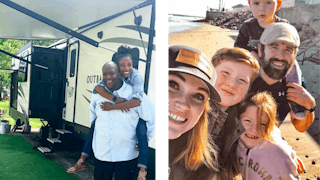 Editor's note: This article was written pre-COVID-19. When planning a vacation, please reference the latest CDC guidelines for travel.
Up until recently, my husband and our two kids lived in a small 2-bedroom apartment. We were always on top of each other and couldn't wait to move into a place with more space. But now that we live in a more spacious house, I miss the closeness.
Lots of families are craving closeness, and that desire has given birth to a new way of living — RV style. Parents all over the country are selling their belongings, closing up their houses, and hitting the road in a motorhome to experience all that the world has to offer.
These full-time RV families share their adventures on Instagram, and have me longing for a home on wheels for my little crew.
1. @happy.loud.life
https://www.instagram.com/p/Bmb72KlhQML/?taken-by=happy.loud.life
A little over year ago, Jill Krause and her family sold their 5-bedroom home to travel the country. She has four kids (including a toddler), a husband, and is still able to maintain a thriving digital business plus homeschool on the road. When asked why she made the choice to live in the RV full-time, Jill said, "Forced closeness. We have no choice but to know what everyone is doing and feeling all the time. This has given us so many incredible opportunities to have deeper conversations about important and sometimes tough topics both with the kids and with each other."
If anything would get me on the road, getting closer to my family would absolutely be it. Also? If you want to know how to become a full-time RV family, Jill shares ALL the secrets.
2. @fourkidsfourcorners
https://www.instagram.com/p/BoMyDxmnU8s/?taken-by=fourkidsfourcorners
Following Jerri, Michael, and the kids from @fourkidsfourcorners is like having United States history tutors on Instagram. From fossils in Idaho to bison in Yellowstone National Park, the Harris family discovers something cool everywhere they go. I appreciate that they show more than just life in the RV, but really give us a sense of the things a family could do if we just got rid of our stuff.
3. @mali.mish
Marlene, Dan, and their 3 kids are OGs in the full-time RV game. They've been traveling since 2008 when they first started living in an Airstream to explore America. Since then they transitioned to a 4-wheel camper, and now they're in Europe, making moves in a 4×4 van. Their gorgeous pictures give me wanderlust and the joy that they capture in photos of their children make me want to go make some memories with my own kids.
If you have big travel goals, you definitely want to check them out because Marlene and Dan are excellent at sharing how they're making things happen.
4. @brownsdopelittleadventures
https://www.instagram.com/p/BnJgOJlnJeD/?taken-by=brownsdopelittleadventures
If I didn't have children, I would want Britta and Will's life. An adorable couple who loves to have fun, they are one of the few black full-time RV families who shares their adventures online. What makes these RVers different is that they live at an RV park and still have full-time jobs, so they aren't always on the road. They show an alternative to leaving your entire life behind, which could actually make this way of living accessible to more people.
When asked why they chose this way of living, they answered, "We've decided to live the life we want vs what society or others expect." Now that's dope.
5. @crazyfamilyadventure
If you have kids and you're considering the RV life even a little bit, you have to follow @crazyfamilyadventure. I can't get enough of how Bryanna and Craig showcase kid-friendly America with their 4 kids and dog in tow. They're really good at finding the most interesting places to visit, and the entire family is always up for not just sight-seeing but doing, too.
Their kids are super adventurous, and I've added a few places to visit to my bucket list thanks to their posts. One super helpful thing about their feed — they always share information about the campgrounds they're staying at. If you're truly looking to start the RV journey, you'll need that info.
6. @parents_unleashed
https://www.instagram.com/p/BnL9grfny_s/?taken-by=parents_unleashed
Warren and Robin's kids are grown, so they got rid of all of their stuff and got on the road. Seriously, @parents_unleashed are total retirement goals. It's so nice to see parents who have raised kids, and are doing well enough to be off on their own, do what they want to do. They meet people and connect with family just about everywhere they go, and it's cool watching them spread RV love all over the country. Robin and Warren's positive energy and love of life beams off the page, and have me wanting to sit down with my husband and talk about adding an RV to our "once the kids are older" plans.
7. @soulfulfamilyrv
Road schooling, tae kwon do, and lots and lots of travel are the reason that @soulfulfamilyrv are some of my favorite RVers. This family believes in staying active — physically, academically, socially. With four kids plus mom and dad, there's never a shortage of things to do. Watching this family manage life on the road makes me feel a little jealous they're able to keep everything together. Seriously, how do they do it all? @souldfamilyrv also inspires me to do more to make sure my kids are experiencing all that this country has to offer.
8. @314sqft
https://www.instagram.com/p/Bol8UL0gnw4/?taken-by=314sqft
I have no idea how she does it, but somehow Bibi from @314sqft makes her RV look like a mansion. Debt-free, vegan, and raising three kids, Bibi is serious #momgoals. Her account resonates with me because it shows the sweetest parts of motherhood, just in an RV. There are picnics, and hugs, and chilling on the couch, and I'm here for the homebody vibe of it all. You don't actually have to travel all over in your RV to live in it. Bibi and her family show that the benefits are still pretty great even if you aren't always rolling.
9. @lostvagabonds
Want to see what it's like from day one as a full-time RV family? @LostVagabonds starts six months before their trip actually began, and we get to go on the journey as they transition into becoming a traveling family for 9 months. More than anything, this account showcases beautiful pictures and a more laidback, calm approach to RV living. I like that they show that you don't have to jump off cliffs in order to have an adventure. Being out on the road is adventure enough.
Who knows if my family would be good RVers or not, but these families sure make me want to give it a go. If nothing else, maybe we'll get a camper and head out for a weekend to get a tiny taste of this adventure.
This article was originally published on