9-Year-Old Pays His Class' School Lunch Debt -- But He Shouldn't Have Had To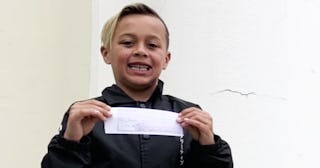 abc7news
This third grader erased his class' school lunch debt — but he shouldn't have had to
Nine-year-old Ryan Kyote paid off the school lunch debt of his entire third grade class, an amount of $74.50 — and he did it using the allowance money he'd been saving.
According to local Napa, California, station KGO, he wanted to find out how much his school owed after his mom told him about the issue of school lunch debt. The whole school had a debt of $700, which was out of Ryan's budget. But his class owed just about $75, an amount that he could take on in his own small way.
"So, I took that email and came to Ryan and said, 'What do you want to do?' He said, 'I guess I can pay for it.' I said, 'Are you sure?' He said, 'Yes,'" Ryan's mom, Kylie Kirkpatrick, said.
"I want them to realize people actually think about them," Ryan said.
"I thought it was a cool idea," Kirkpatrick, told the Napa Valley Register. "I want him to give back." She also said that normally, Ryan saves up his allowance to buy sports equipment, as he's active in everything from football to basketball to soccer to ballet.
The staff at the school district office were surprised, but happily took the money, which Kirkpatrick pulled from Ryan's savings account. Then his mom took a picture of him beaming and holding the receipt.
"It's a wonderful way of thinking about other people. I'm proud to have him as a student," West Park Principal Amye Scott told KGO.
School lunch debt has been increasingly in the spotlight lately, as school systems struggle with large food-related debts and families struggle to have enough money to pay for their kids to eat lunch. While most states have laws against refusing to feed hungry kids at school no matter their balance, some have harmful policies like only serving cold lunches of peanut butter and jelly sandwiches to kids who are in debt to the school.
Even though California has laws against "lunch shaming," and even though Napa Valley Unified School District has a policy that always provides hot lunch to everyone, the school still has more than $25,000 in food debt. Parents have until June 30 to pay their balance before the amount is simply absorbed by the school district — and where it might affect the budget in other ways.
Of course, the burden of solving the issue of school lunch debt shouldn't rest on the shoulders of nine-year-old boys. A better solution would be free school lunches for all — or better yet, better solutions to bigger problems like the minimum wage, the wage gap, the childcare crisis and… we could go on. But, for now, and for today, we're thankful to kids like Ryan and moms like Kirkpatrick.
"This was a very considerate and special donation and the district applauds the efforts of the student who has shown compassion to his school and fellow classmates," NVUSD spokesperson Stacy Rollo told the Napa Valley Register.
Ryan and his mom hope that his small gesture inspires other families to pitch in before the school year ends.
This article was originally published on