Emergency Dispatchers Share Emotional Tales From The Trenches Using #IAm911
by Megan Zander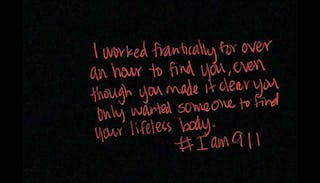 Emergency dispatchers use #IAm911 in an effort to reclassify their position from 'clerical' to 'protective'
The #IAm911 Tales From The Trenches Will
Just last week I had to call 911 when my son badly sliced and broke his finger in a door jam. As terrifying as the situation was, the calm, level-headedness of the dispatcher on the other end of the line helped make one of the scariest moments of my life a little more bearable. Without the 911 dispatcher's professionalism and ability to keep calm when I was anything but, who knows if my son's hand would be healing as well as it is right now. I may never know their name, but I'm forever grateful for their help that night.
Ricardo Martinez II is the founder and host of Within the Trenches, a podcast based on the experiences of being a 911 dispatcher. Martinez recently started the movement #Iam911 as an effort to assist the reclassification of public safety telecommunicators from "clerical" to "protective."
The movement has exploded, with dispatchers coming forward to share their deeply personal experiences handling emergency calls. Their stories are both gut-wrenching and incredible.
Although they're not the ones coming to your door with the ambulance, it's obvious from their words that when a 911 dispatcher answers a call, they are completely committed to helping whoever is on the other end of that line as best they can. And it's clear that some calls stay with them, long after they hang up.
This reclassification would help recognize emergency dispatchers as public safety professionals, rather than people who just answer phones and relay messages to others. For example, in his latest podcast Martinez says a taxi service dispatcher would be an example of a clerical telecommunicator. While their job is important, it's obviously vastly different than that of a 911 dispatcher.
Dispatchers have to be prepared for anything, for the entire length of their shift.
They feel your pain, and they remember it.
They have to stay strong and focused to help you stay calm too.
Being a 911 dispatcher is so much more than a clerical job. Staying on the line with someone in their darkest moments takes strength and courage not everyone possesses. While these stories are difficult to read, hopefully the #IAM911 movement serves its purpose and these brave men and women can be classified as protective public safety professionals, as they deserve to be.
This article was originally published on