Director Of The Movie 'A Boy Called Po' Explains What Autism Is Really Like For A Family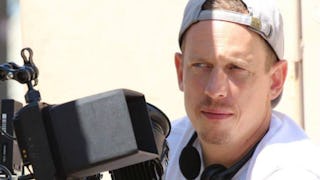 autismawareness.com
No one can tell the story of A Boy Called Po — the 2016 movie that just became available on Netflix –quite like John Asher can. While he's the film's director, producer, and editor, Asher also knows firsthand the complex dynamics of parenting a child with autism. Considering that he is the proud father of an autistic son, Evan, who is now 14, it is not surprising that Asher's motivations behind the film run deeper than profit and box office success.
"I just wanted my movie to be authentic. I wanted the community to embrace this movie and put their stamp of approval on it. That's what I care about the most.… I didn't make the movie to make money. I made the movie to educate people more than anything. So, really, for me, I just want people to see it, and I don't care how they see it. I just want them to see it."
Hope Ahead
When I shared that I, too, have an autistic son, the famous director instantly stepped out from behind the camera and put on his Dad hat. "One of the things that we were fortunate about is that Evan was diagnosed when he was about two-and-a-half or three years old. Early diagnosis is key. I mean, look, there was a time when he was three years old, and I was like, I don't know if he's ever going to live by himself. I don't know if he is going to get taken advantage of. And yet last week, Wednesday, was his first day of high school. No shadow, all by himself. And he's in special ed classes. But he's also into mainstream classes. He's unbelievable. And he's going to get a frickin' driver's license."
Asher exuded pride for his son, but his tone remained solemn. He wasn't gloating; he was comforting me. He was remembering that time of limbo. "I just want you to know — I'm telling you — you really have a lot to look forward to." I was grateful for the handful of hope that he passed on to me.
Digesting A Diagnosis
Since I'd only recently received my son's official diagnosis, I asked Asher about his introduction to autism. "I remember when my son was diagnosed. It was really interesting how it happened. We went to see a doctor at UCLA. He was just watching Evan in a room. He gave him a bunch of miniature hazard cones, the little yellow cones, and Evan started stacking them up and making sure they were perfectly lined up. He put his eye up to the table and they were all actually perfectly spaced apart. I remember [my wife] Jenny saying, 'Does my son have autism?' and the doctor looked at her and said, 'What do you think?' She just burst into tears."
While I firmly believe that the saying, "If you've met one person with autism, you've met one person with autism," is true, I'm not so sure I can say the same about the parents of autistic children. I may not know Asher or his wife personally, but I do know how they felt in that moment. I've seen my share of stacking and eye-tracking.
My heart went out to them both as I listened. In the movie, seeing Po's father walk the same path that I clumsily navigate on a daily basis made me feel less alone as a special needs parent. The director had already succeeded in comforting me as a viewer. Now, in real life, he had done the same service for me as a parent.
Coping With Conflict
My interview questions now tossed aside, I confessed the challenges I've been facing as a newbie special needs mom. True to character, I began to overshare, telling Asher how autism affects so much more than our children—it affects our relationships, our marriages, our jobs, everything.
He knew. Of course, he knew. A Boy Called Po confronts practically every obstacle I have faced as the mother of an autistic child. I wanted to know what personal aspects of fathering an autistic son he incorporated into his film.
Asher told me about a specific scene in which Christopher Gorham's character, David, just loses it. I knew the scene; how could I forget it? I faced my own demons as I watched it; half of me wanting to protect Po, the other half filled with compassion and understanding for David and the frustration he felt. I asked him if he believes that the challenges are different for special needs fathers than they are for special needs mothers, and if so, how.
Clearly cognizant of the question's controversial undertone, Asher continued to keep it real. "My opinion is that, sometimes, men feel the need to appear as if everything is okay. That it's alright. Our job is to make our wives feel like, 'look everything's fine,' right? I may have done that to a fault because I think that Jenny got frustrated, and she was like, you know, how can you say that everything is alright? I was positive, and look, everything is fine, but it's bad. I mean, the divorce rate for autism parents is what, eighty-five percent, ninety percent?"
I replied that those statistics did not surprise me one bit and we both laughed. Looking back now, I'm not sure I can explain what exactly was funny in that moment.
The Marriage Toll
I confessed to Asher that my marriage was no stranger to conflicting coping mechanisms. If it weren't for the countless messages I receive from fellow special needs moms who feel the exact same way, I'm not sure I'd be sharing it here. But I know I'm not alone. So many women have shared with me that they feel as though their partners just don't get it. They don't see.
Asher quickly jumped in to clarify. "We do see it. We do see it. But look, a man would never tell you he is having a heart attack. He would sooner go in the bathroom and die quietly. We wouldn't tell you because we're not designed that way."
Of course, Asher and I both acknowledged that not all men operate this way. Yet, the fact remains that many marriages suffer as one parent remains positive, walking ahead with a spring in their step, while the other, lugging the heavy baggage of both their realities, struggles to keep up. Or so I've heard.
Asher stayed true to form, and continued to offer me his genuine support. "Can I give you one piece of advice? Communicate. When you go to sleep at night, it's okay to say you're scared. I wish I had said that to her more. I wish I admitted that I was scared because there's comfort in the other person. I just kept saying, everything's going to be fine."
Going It Alone
Perhaps it's no coincidence that in A Boy Called Po, David also struggles to admit his powerlessness as the father of an autistic son. The film confronts the uniquely heavy burden that a special needs parent inherits when they lose their partner. Whether it is due to a loss like in the film, or the result of a divorce, I asked Asher how one person attempts to carry this weight alone.
"You know, I think my thing is to not lose hope. You think the world is crumbling around you, and you just don't realize that you have this beautiful gift right in front of you, which is your child. And it's not to give up on your child. Not to be scared."
A Father First
Autism parent to autism parent, Asher talked with me far longer than I could have expected. This time the guy behind the camera is also the guy at occupational therapy. He knows the appointments and insurance policies. He knows the worrying and denial. He knows the fierce struggle and even fiercer bond. He might even know a little bit about your marriage.
We covered it all, and we were left with the same question that every conversation about autism ends with. What do we do about it? We already know we can't change autism. But we can show people what it really looks like.
I asked Asher, as a father, how he hopes A Boy Called Po can effect change.
"I hope that the autism community watches this film so that they can show it to their not autistic or neurotypical friends and say, 'If you want to come into my life, look at this movie.' Because that's really what it's designed to do. The movie is entertaining. It's magical. It makes you laugh; it makes you cry. That's the design of it. The design is toward the typical families. So that they can watch this movie and say, 'Oh, that's what my friend is going through!' They look at us with these blank faces. They're like, 'Oh, that must be so hard. So sorry for you.' They don't know what we are going through. Take this film and show it to your friends. If you have autism in your life, show this film to your friends and they will understand what you are going through."
A Boy Called Po is now available on Netflix.
Previously published on AutismAwareness.com.