Official Date For 'A Day Without A Woman' Has Been Announced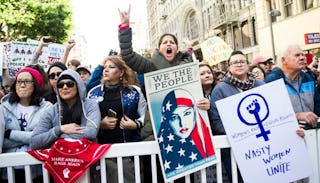 Via Emma McIntyre / Stringer
A one-day strike could show that women really are pillars of society
The Women's March was a historic event for the U.S. — millions of women joined protests across the country and around the world to speak up for the rights women are in danger of losing under a Republican government — but that wasn't enough for the event's organizers. They want the Women's March to be more than a single event; they want it to be a movement. And the next step in doing that is organizing the Day Without A Woman strike, which now has a set date: March 8.
On that day, which is also International Women's Day, leaders of the Women's March are calling on all women who are able to remove themselves from work and the economy, showing how important women really are. They're being asked to skip work, not shop, and leave household and childcare duties up to the men in their lives. In an Instagram post announcing the date, organizers said more details about the specific actions women can take that day will be released as the date gets closer.
A one-day strike like this isn't unprecedented. In Iceland in 1975, 90 percent of the country's women left their offices and homes and rallied in the streets for equal rights and equal pay. According to the BBC, the strike, named the 'Women's Day Off,' caused banks, stores, schools and nurseries to close, and offices dominated by men were forced to accommodate the children that fathers had no choice but to bring with them to work. News reports covered the strike with children playing in the background, and shops sold out of sausages, a meal that children liked that was simple to cook.
"Things went back to normal the next day, but with the knowledge that women are as well as men the pillars of society," said Vigdis Finnbogadottir, one Icelandic woman who participated in the strike. "So many companies and institutions came to a halt and it showed the force and necessity of women – it completely changed the way of thinking."
Five years later, Finnbogadottir won Iceland's presidency, making her the first woman to be democratically elected to lead any country in the world.
As March 8 draws closer, more details about how women can take action can be found by following the Women's March on Instagram or Twitter.
"We saw what happened when millions of us stood together in January, and now we know that our army of love greatly outnumbers the army of fear, greed and hatred. On March 8th, International Women's Day, let's unite again in our communities for A Day Without A Woman," organizers wrote when they announced the date for the strike. "Remember: this is a marathon, not a sprint."