An 'A League Of Their Own' TV Series Is In The Works And We're Squealing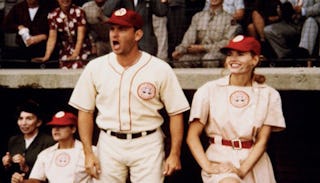 Image via IMDB/Columbia Pictures
Dust off your Rockford Peaches uniform: A League of Their Own is likely getting a half-hour comedy reboot
Shortly after the iconic baseball movie turned 25 last year, Variety reports that A League of Their Own is being developed into a 30-minute comedy series for Amazon. While no official deals have been signed and sealed, Broad City's Abbi Jacobson and Mozart in the Jungle's Will Graham are developing the series, which will hopefully be absolutely nothing like the extremely cringeworthy A League of Their Own sitcom spinoff that appeared on CBS for a hot sec in 1993.
So far, the scouting report on the proposed comedy looks very good: the series wouldn't be a traditional adaption of the movie, but rather a fresh take that introduces a new cast of characters. It would follow the Rockford Peaches through their All-American Girls Professional Baseball League season, offering a deeper, more modern take on some of the very real issues affecting the country and the female players at the time, from feminism to equality.
The Hollywood Reporter released the show's logline, which reads in part:
"The show will begin with the formation of the league in 1943 and follows the Rockford Peaches, season to season as they struggle to keep the team alive through close games, injuries, late night bar crawls, sexual awakenings, not crying and road trips across a rapidly changing United States. The series dives deeper into the issues facing the country while following a ragtag team of women figuring themselves out while fighting to realize their dreams of playing professional baseball."
Jacobson and Graham have reportedly drawn up a mini-writers room for A League of Their Own that's ready to roll as soon as a final decision is made on the series. SQUEAL. Please make this happen.
If you have to ask, A League of Their Own was released in 1992 to critical acclaim and box office success. It's widely considered one of the best baseball movies ever made and was added to the Library of Congress' National Film Registry in 2012, which wrote that the film "not only illuminates [a] fascinating, under-reported aspect of American sports history, but also effectively examines women's changing roles during wartime."
More importantly, it contains one of the best scenes in a movie ever:
While reboots can be a risky endeavor, this one seems to have a lot going for it: it involves the original producers and has the blessing of both original director Penny Marshall and original star Geena Davis. It will also be created by two proven comedy writers and producers with multiple successes already under their belts.
Still, though, we probably will never know if Dottie dropped the ball on purpose or not.
This article was originally published on