More Women Are Coming Forward To Accuse Brett Kavanaugh Of Sexual Misconduct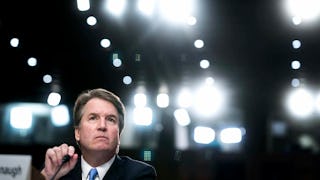 Image Melina Mara/The Washington Post via Getty Images
One of Kavanaugh's Yale classmates tells a disturbing story of his conduct at a party
Yesterday, The New Yorker reporters Jane Mayer and Ronan Farrow broke the news of yet another woman from Brett Kavanaugh's past accusing him of sexual misconduct. This time, the assault took place in college, not high school.
Deborah Ramirez, a student at Yale when Kavanaugh was also attending the school, told Mayer and Farrow the story of a dorm party and drunken incident she would like the F.B.I. to look into before the Senate moves forward with a vote to confirm Kavanaugh to the Supreme Court.
Ramirez' allegations date back to a party during the 1983-84 school year. Kavanaugh was a freshman. Ramirez says during the party, which she describes as including a drinking game, she ended up on the floor slurring her words. "We were sitting in a circle," she said. "People would pick who drank." She says she was chosen repeatedly. She says at one point, a male student pointed a plastic penis at her.
When she woke up, she says "I remember a penis being in front of my face," she says. "I knew that's not what I wanted, even in that state of mind." Ramirez says she remembers telling onlookers, "That's not a real penis," while the other students laughed and started encouraging her to "kiss it." Instead, she went to push the penis away, touching it. Ramirez was planning to wait until marriage to have sex. "I wasn't going to touch a penis until I was married," she said. "I was embarrassed and ashamed and humiliated."
"Somebody yelled down the hall, 'Brett Kavanaugh just put his penis in Debbie's face,' " she said. "It was his full name. I don't think it was just 'Brett.' And I remember hearing and being mortified that this was out there."
She distinctly remembers Kavanaugh being the one to assault her. "Brett was laughing," she said. "I can still see his face, and his hips coming forward, like when you pull up your pants."
At least four Democratic senators have been made aware of the accusation and two are investigating it. The New Yorker also reports that Senate Republicans knew about the allegations and that's when we saw renewed calls late last week to confirm Kavanaugh ASAP.
Senator Mazie Hirono, of Hawaii, said "This is another serious, credible, and disturbing allegation against Brett Kavanaugh. It should be fully investigated."
Ramirez has expressed concerns of her credibility being called into question all these years later, having been drinking at the time. She's aware she will be questioned about her memories and asked why she didn't come forward sooner. But she knows for certain it was Kavanaugh who assaulted her that night.
"I'm confident about the pants coming up, and I'm confident about Brett being there." Ramirez distinctly remembers not only her fellow students laughing at her, but Kavanaugh in particular. "It was kind of a joke," she says. "And now it's clear to me it wasn't a joke."
Ronan and Mayer note that by this point, Kavanaugh was 18 — legally an adult. During his confirmation hearing before the Senate Judiciary Committee he was asked if he had "committed any verbal or physical harassment or assault of a sexual nature." He swore under oath that he had not.
Of course, he's now denying the claims saying the incident "from 35 years ago did not happen. The people who knew me then know that this did not happen, and have said so. This is a smear, plain and simple."
And now, Michael Avenatti, attorney for Stormy Daniels, a woman Trump paid off before the 2016 election to cover up an affair, says he has even more woman about to come forward with even more disturbing allegations. He claims to have "significant evidence" of Kavanaugh participating in "targeting" women at parties with alcohol and drugs so he could sexually assault them later.
As more women come forward, it's increasingly evident that this man is a predator — just like the president who nominated him. Let's hope the right thing is done this time — before it's too late.
This article was originally published on