ABC Cancels 'Roseanne' After Her Racist Twitter Rant
by Valerie Williams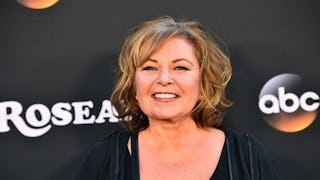 Image via Alberto E. Rodriguez/Getty Images
Roseanne Barr's racist tweets result in ABC cancelling her show
After a stream of breathtakingly offensive, racist tweets, Roseanne Barr is apologizing for her abhorrent words and claiming she's leaving Twitter. However, that apology and social media flouncing is too little, too late. ABC announced today that they would be cancelling Roseanne.
According to a statement obtained by CNN, the network called it quits on the show, which premiered to record-breaking ratings only three months ago and was already in pre-production for a second season. ABC Entertainment president Channing Dungey said, "Roseanne's Twitter statement is abhorrent, repugnant and inconsistent with our values, and we have decided to cancel her show."
If you've never seen Barr's Twitter feed, it's really… something. She's long supported Donald Trump and retweeted rightwing conspiracy theories along with her own hateful rhetoric. One of her favorite targets is billionaire democratic benefactor George Soros. She started her series of increasingly appalling tweets by trying to suggest Chelsea Clinton had married into the Soros family.
Clinton, in her usual way, responded with class and a calm most people simply don't possess when under such vitriolic attack.
"Good morning Roseanne – my given middle name is Victoria. I imagine George Soros's nephews are lovely people. I'm just not married to one. I am grateful for the important work @OpenSociety does in the world. Have a great day!" Clinton tweeted.
But Barr wasn't done there. She then tweeted out a long ago debunked conspiracy theory about Soros along with another sarcastic jab at Clinton.
"Sorry to have tweeted incorrect info about you!I Please forgive me! By the way, George Soros is a nazi who turned in his fellow Jews 2 be murdered in German concentration camps & stole their wealth-were you aware of that? But, we all make mistakes, right Chelsea?" she wrote.
After giving the most insincere apology ever heard, she then doubled down on her gross attacks by posting another incendiary tweet about Clinton's father-in-law, Ed Mezvinsky.
But the most repulsive of all was Barr's statement about former Obama aide Valerie Jarrett. In a now-deleted tweet (because not only is she a disgusting racist, she's a complete coward who simply can't keep her dumb mouth shut) Barr wrote, "Muslim brotherhood & planet of the apes had a baby=vj."
CNN's Andrew Kaczynski called her out and Barr replied that she was "joking."
Barr then launched into an ultimately useless apology saying her "joke" was in bad taste. You think?
Before news of ABC cancelling Roseanne hit, other stars from the show were quick to let it be known that they condemn Barr's disgusting remarks. Wanda Sykes went as far as quitting.
News of her unforgivable statements also caused a quick backlash around Twitter with many calling for the show to be cancelled.
Once news broke that the network did the right thing, praise rolled in. Although it's easy to argue that they never should've given her a platform anyway with her long history of awfulness. In 2013, she referred to Obama National Security Adviser Susan Rice as "a man with big swinging ape balls."
Before sending out her apology to Jarrett, Barr said she's leaving Twitter. She also said that a little over a week ago, so chances are excellent the social media platform hasn't heard the last of her.
Fortunately, ABC viewers have.