12 Accessories To Liven Up Your Next At-Home Happy Hour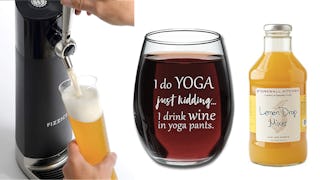 Images via Walmart / Amazon
As parents, we all have to adhere to a routine for the most part so it fun to stir (or shake) things up a bit for happy hour. Whether you are having a few friends over, like to share a cocktail with your partner after work, or are looking to try something different, we have a tantalizing list drinks and accessories for you to try.
This beer dispenser makes any beer taste like a genuine craft beer. The Fizzics DraftPour creates Micro-Foam, which makes for intense flavor and aroma.
Opening your favorite bottle of wine will be so much easier with this electric opener. Within seconds, you can be sipping away and avoiding getting in a fight with a cork.
If happy hour happens to be a friend's house and it's BYOB, or you are simply going to sit in the backyard and hope dinner makes it self, this tote is a must-have.
Summer is coming and that means you will be making the kids snow cones and making you and your friends some wine slushies. Dump this mix, your favorite wine, and ice into the blender and you will keep cool.
This Yeti Colster will keep your beer ice cold, it won't sweat, and is a good way to hide your adult beverage if needed. It can also be used for sodas and other cold drinks.
We love our flip flops, but we also love it when someone doesn't accidentally grab our glass and wrap their lips around it. These charms are fun and will keep you from swapping spit at your next soiree.
Mix this tangy mixer with vodka for a refreshing spring/summer drink, or add with to sparkling seltzer for a nice mocktail.
I love a nice Bloody Mary any time of the day. Spice your up (literally) with these zingy mixers— extra horseradish? Yes please.
We are totally starting a club, this will be our only activity, and everyone gets one of these glasses. You in?
There's nothing like that Friday feeling and this beer mug is the perfect thing to ring in the weekend.
No need to serve dessert during your next dinner party, this strawberry wine will do. Add some fresh berries and mint to each glass and really impress your guests.
No need to go out to have a beer tasting. With this beer flight set, you can host your own at home — just tell the neighbors to bring the snacks.
Happy hour just got more interesting. The only question is, what are you going to try first?
We may earn fees from purchases made via links on this page and affiliated sites. All opinions are our own.
This article was originally published on