A Kid Wrote A Letter To Steven Spielberg And It Changed The Course Of His Whole Life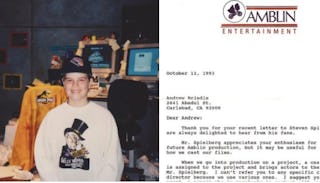 Image via Andrew Briedis
Andrew Briedis owes his acting and writing career to Jurassic Park, Steven Spielberg, and his awesome mom
On the 25th anniversary of Jurassic Park, actor and writer Andrew Briedis took to Twitter with the story about how the classic movie changed his life when he was just a kid. The thread went viral, and is inspiring people around the country with its lesson to go after your dreams instead of holding back.
Briedis tells the story of the first time he saw Jurassic Park in theaters when he was a kid, and how his obsession with the movie inspired him to pursue theater and writing — but only after his mom showed him exactly how he needed to go after his goals and Steven Spielberg's production company gave him the confidence to get started.
Briedis shares that after seeing the movie nine times in theaters, his mom encouraged him to act on his goals instead of just fuming and feeling left out. She somehow looked up the address to Steven Spielberg's production company (not an easy feat in the pre-Google days, Briedis points out) and encouraged her son to write to ask for a part in any sequels.
A few weeks later, he got a response.
After receiving the letter, he immediately auditioned for a local play — his mom's original suggestion. And he never stopped pursuing his dreams. He also got a raptor tattoo on his leg to remind him of his mother's life lesson.
"That is how I got into theatre," he wrote. "Because someone important took the time to help a kid."
Today, Briedis is a working comedy writer and actor, who has appeared on Unbreakable Kimmy Schmidt and recently was a guest writer on SNL.
Briedis told Scary Mommy that he's been blow away by the response, especially from mothers who have read the thread.
"The response has been incredible. Everyone has said such nice things about the story, and how they connect to it in their own way, or that it's inspired them. I've heard a lot from moms and that has meant the most to me."
His own mother passed away from breast cancer in 1999. He's currently developing a project based on her.
"My mom is the hero of this story. It's really about how she was trying so hard as a parent to figure her son out and she was able to do it in a way that became an instrumental teaching moment for me."
Finally, Briedis shared with us how thankful he is to Spielberg and his team for answering so many letters from kids the summer after Jurassic Park hit theaters.
"I've also been thrilled to see that several other people also wrote Steven Spielberg during that era and received similar letters back," he said. "That just speaks to the level of character of Kris Kelley, director of Public Relations of Amblin at the time, and to Mr. Spielberg and the caring people he works with who over and over again, make sure that kids know how to make the first step toward their dream."
You can see just how affected he was by his mom, Spielberg, and Amblin in a picture taken just a few years later.
"This [is] when Universal Studios did an exhibit of set pieces and costumes from the film," he said. "I am wearing a sweatshirt from the one of the plays of the youth theatre I joined after receiving my letter from Amblin."
This story is an excellent reminder to never give up on your dreams — or underestimate the power and resourcefulness of a determined mom.
This article was originally published on