Addiction Recovery Will Look Different For Everyone
by Amber Leventry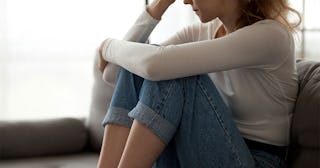 fizkes/Getty
It took me a couple of years to feel proud of my recovery. I was thankful for my sobriety and acknowledged the hard work I was doing to not drink each day, but I couldn't shake the shame and embarrassment for what I thought was my fault. I was an addict; I did this to myself.
I now know that's not true. Addiction is complicated and nuanced and is based on both environmental and biological factors. I alone didn't become an addict nor did I get sober alone. I did it with the help of people already in recovery and through programs that support the varying needs of people who not only struggle but thrive in the face of addiction.
This September is the 32nd observation of National Recovery Month. The month had previous been sponsored by Substance Abuse and Mental Health Services Administration (SAMHSA), but is now being hosted by Voices & Faces of Recovery; the organization has created a new website to honor recovery month and celebrate the people and strategies used to live a life out of the grips of addiction.
This month, tens of thousands of prevention, treatment, and recovery facilities and programs across the United States will speak up and out about the courageous work people in recovery do every day. Sharing the success of these programs and individuals increases awareness and a better understanding about mental health and substance abuse. It also reduces the stigma that accompanies addiction and the people close to it.
Some argue that addiction is a disease but others caution that calling it as such could lead people to not take accountability for their actions; some people may lose hope if they think they won't ever be "cured" of their disease or substance abuse. My alcoholism was making me sick, but I didn't see it as a terminal illness. I knew I couldn't control my drinking once I got started, but I learned to trust myself and the systems I rely on to not drink each day. I know relapse is always possible, and the reality of that fear is what keeps me using the tools I have found necessary in my recovery.
Whether you're thinking about sobriety or have been sober for a long time, there are many different types of treatment and recovery options to support your specific needs. Robert Fishman, Vice President of admissions at Advanced Recovery Systems tells Scary Mommy that it's important to consider the severity and length of your addiction while knowing what will work best for you when choosing a program for recovery.
Fishman says, "One important decision to make is whether an inpatient or residential program is the best fit for you versus an outpatient treatment plan. Living on-site at your treatment provider is best for those who would benefit from medically-supervised detox and those who need or prefer a very structured, regimented approach to beginning a life change."
Outpatient services require the individual to work with a support team to set up an environment that offers the best chances for success. For both inpatient and outpatient care or care not connected to a specific program, it's important to address mental health conditions in conjunction with sobriety. Fishman says that one condition usually affects the other. Some folks need intensive therapy sessions, while others find relief through yoga, art, meditation, or other holistic approaches.
The goal for most people is to find long-term sobriety, but relapses do occur and there isn't any shame in going back to treatment at any time. Even if you haven't relapsed, Fishman says, "Going back into treatment — even if not back into an inpatient program — is a proactive way to shore up any weaknesses in your plan and give yourself support and motivation to stay committed to your sobriety."
When I become overwhelmed and more quickly triggered to think about drinking or start negotiating potentially self-harming or self-destructive thought patterns, I know it's important to check in with myself and my support networks. My prevention plan needs to work, and when it's not woor when I have forgotten to use it, I readjust.
It's important to note that some people in recovery may still use other substances. For example, an alcoholic may use edibles or someone who has an addiction to pills may drink. Demi Lovato recently talked about this and how it works for them. Recovery is a personal journey and what works for one person or many won't work for everyone. Theses decisions are best made with your support team and therapist to be sure your strategies are smart ones for you. Fishman adds, "Believing that you can successfully use one substance and not another while maintaining a recovery mindset and lifestyle is a warning sign. Using a substance to regulate your emotions is another warning sign that your recovery is in jeopardy."
Celebrating addicts instead of shaming us improves our chances of fulfilling our goals, maintaining healthy relationships, and fostering a recovery mindset. If you are supporting someone who is or who wants to be in recovery, then be patient. Be available to listen and encourage. Loving an addict is not enabling them. Set boundaries, but don't lose faith in us.
Recovery is different for everyone and is rarely linear. If you are on your sobriety journey, keep going and get back up if you fall. You are stronger and more resilient than you know.
If you need help finding treatment, please contact Substance Abuse and Mental Health Services Administration (SAMHSA) or call them at 1-800-662-4357.
This article was originally published on