Adele Makes Rare Public Appearance During NBA Finals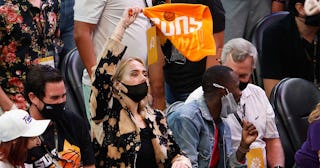 Christian Petersen/Getty
Adele looked happy to be out while hanging court-side at Game 5 of the NBA finals
There was an Adele sighting over the weekend, leaving fans wanting more. The 33-year-old singer and mom-of-one made a big splash at Game 5 of the NBA Finals at the Footprint Center in Phoenix, looking gorgeous and happy.
The songwriter made the rare public outing, cheering on the Phoenix Suns despite their loss to the Bucks, 123 to 119. She sat next to LeBron James' agent, Rich Paul, for the game, sparking rumors of a new man in her life. Paul is a sports agent and founder of Klutch Sports Group, representing many NBA players including his friend, James.
ESPN journalist Brian Windhorst referred to Adele as Paul's "girlfriend" on his "The Lowe Post" podcast. "This is the first time they've come out in public together," Windhorst said during the show. "So this will be all over the tabloids, especially in England tomorrow."
While her dating life is anyone's guess, her fans have enjoyed the few social media posts Adele has shared over the past few months. Most of them have centered around sports. Earlier this month, she posted a video on Instagram after England defeated Denmark in the semi-finals of the 2020 UEFA European Football Championship. "ITS BLOODY COMING HOME," she captioned the video, where she can be heard yelling and cheering.
Unfortunately, England was defeated by Italy in the final match, and the Grammy winner shared another post on Instagram in support of England and the team. She was smiling up towards the sky, captioning the photo, "You did us so proud! You brought our game home and brought us all together."
Before that, Adele shared very few details about her life outside the public eye. One was on her 33rd birthday on May 5, another for the 10-year-anniversary of her sophomore album "21," and several after she hosted Saturday Night Live last October. During that time, she's been working on a new, untitled album that fans are patiently awaiting.
While neither Adele nor Paul have publicly commented on whether they're an item, the singer recently finalized her divorce from Simon Konecki. The two, who ended their relationship in 2019, share joint legal and physical custody of their son Angelo, eight. While she's been linked to a few different men, in October during her Saturday Night Live appearance, she wrote, "I'm going back to my cave now to be the (single) cat lady that I am! Peace out til next year [black heart emoji]."
Here's hoping we see more of her happy gorgeousness out and about in the near future.