Every Divorced Mom Can Relate To Adele's New Song 'Go Easy On Me'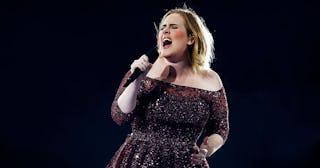 Phil Walter/Getty
Each morning after I drop my kids off at school, I watch them walk in and silently send them a blessing to stay safe, then go for a run. After that, I treat myself (religiously) to Coke Zero from my favorite fast food chain. They know me by name, ask me what I'm writing that day, and every once in a while they give me my cup without asking for my money and send me on my way.
This morning, though, they knew something was amiss as soon as they saw my swollen, bloodshot eyes and tear stained cheeks.
"What's wrong?!" the woman who waited on me asked in mild alarm.
"Adele's new song about divorce just dropped and I'll never be over it," I told her honestly.
She handed me my cup and slowly backed away.
If you happen to see people walking around this weekend in a daze with smeared make up or wearing sunglasses inside, assume they have her new song 'Easy On Me' on repeat just like I do. No matter how hard I try, no matter how many times I tell myself this will be the last time I listen to it because I have no tears left, I can't help myself.
Personally, I've always loved Adele, but even people who aren't as obsessed with her as I am say that her music has a way of speaking to them. She holds nothing back and and she's the master when it comes to singing about heartbreak.
As a divorced woman, there are a lot of songs that have a way of stirring up my emotions about my marriage, my family, and my divorce. I don't care who you are: if you've been through a marriage ending, you have deep-rooted feelings about it that will stick with you. And there's nothing like a song to take you back in time, even if it's to a place you don't want to go.
Adele's song 'Easy On Me' hit me deeper than any song has ever hit before. It was a completely different experience. To me, it was a song to her son about her divorce. She sang about it in a way I've never heard before, yet I felt every ounce of it.
I know that when anyone puts words out into The Universe they are interpreted in different ways to different people. What we hear is our own story, and a lot of times, we will find what we are looking for in a song.
As I listened to this song for the first time I felt like my heart was pried open and these were the words I've been looking for to say to my children ever since their father and I separated.
I had good intentions
And the highest hopes But I know right now It probably doesn't even show
There are times I wanted to say this to them when they were mad at me, when I didn't handle something right, and on days when I wasn't able to be a good mom because my emotions over my divorce got the best of me.
I never did, though, because I didn't think it was something I should ask of them. That's the guilt talking.
It is more than okay to tell your kids — or anyone for that matter — that you are going through some heavy shit and you need them to go easy on you.
It is more than okay to accept that you have hurt someone and still ask them for grace.
It is more than okay to have your marriage not work out, feel guilty about that and try to hold it together for your kids, and not be able to do that.
It is not your job as a divorced mother to be going through all the emotions and feelings divorce will dole out and think you still have to be tough as nails all the time.
I can't wait for the entire album to come out in November — and when it does, I'm sure there will be a Kleenex shortage.
So while this song is about asking others to have compassion and go easy on you, if you are going through a divorce (or anything hard) don't forget to go easy on yourself too.
And if you need a reminder, just play 'Easy On Me' by Adele once. Or twenty-five times like I did.
This article was originally published on