I'm An Adoptive Mom, And I Needed A Baby Shower Too
by Rachel Garlinghouse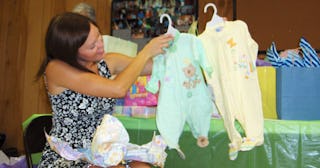 Courtesy of Rachel Garlinghouse
"Surprise!" the 15 women yelled in unison. I looked above my group of friends to see a pink and blue banner hung over the sliding glass door boasting, Welcome, baby!
I was both shocked and honored. As a woman waiting to adopt a baby, I'd been overlooked or overshadowed more times than I could count. But my friends had chosen to celebrate me and the baby we would one day adopt.
But many others aren't so lucky. Many moms-to-be yearn to be acknowledged and celebrated.
As someone hoping to adopt, every single reminder of not being a mom is torturous. Plump, gummy babies are everywhere. At the park where we jog, at the store where we shop, at the restaurants where we meet our partners for lunch. We can't watch television without seeing a diaper commercial, the camera zooming in on the newborn's perfect skin.
Catching a glimpse of a baby is unavoidable. And as much as we want to be a mom, and as adorable as those babies are, seeing them cradled in their mom or dad's arms just reiterates the fact that we aren't in the mommy club.
A few years ago, I was in the baby clothing department looking for a gift when I came within earshot of a pregnant woman and her mom. The woman was relentlessly complaining. The girl clothing was so cute with a plethora of options, but the boy clothing was boring and limited. She whined to her mom, "I wish I was having a girl."
It took every ounce of my strength not to whirl around and tell her how dare she rant about having a baby boy. Did she know that one in eight couples experience infertility? Did she understand how many women have lost babies, who couldn't get pregnant, who would have moved heaven and earth to have the chance to parent just one baby, no matter the sex?
Waiting to adopt a child is torturous because you have no idea when your baby will arrive. It could be days, weeks, months, or years. One day you aren't a mom, and then the next day you are. There's no nine-ish months of middle-of-the-night peeing, late-night taco cravings, sonogram appointments, or strangers trying to rub your belly. No one asks if you're having a boy or a girl, when you're due, or if twins run in your family.
You're a mom-to-be without a baby in sight. And you just want someone to recognize your pain and your yearning — treating you like you're the real, expecting mother that you are.
And that is why a baby shower is so important.
I grew up in the 1980s and '90s where I attended numerous baby showers in church basements. They were true to their time. Thickly iced, artificially colored cakes complete with plastic teddy bear and balloon cake toppers. As if that weren't sweet enough, we'd have punch ladled from a crystal punch bowl and pastel mints. We played games like guess how big mom's stomach is and baby shower gift bingo. The expecting mom would sit in a folding chair, surrounded by pink and blue wrapped gifts, opening one at a time over the span of the longest hour ever.
When I was a child, I found these showers to be lengthy and predictable. In essence, I took them for granted. But as an adult yearning to be someone's mom, I wanted a baby shower to help me prepare for my future baby.
I wanted the cheesy games, the too-sweet food, and the tower of gifts because they would help me mentally prepare for motherhood. And as old-school as it sounds, I wanted the blessing of mommy-hood to be poured upon me from other women.
When my time came for a shower, I was floored. It was everything I hoped for. Of course, no one measured my stomach. The gifts I received were all considered gender-neutral, clothing and blankets in yellows and greens. We not only had one shower while waiting for our first baby, but two. And then my husband's family threw us a shower a month after we brought our daughter home.
Were the showers all I hoped they'd be? Did they bestow upon me some sort of sacred piece of the motherhood puzzle? ABSOLUTELY.
Arriving home with a car full of onesies, bottles, diapers, pacifiers, toys, and board books was magical. We painted the nursery, set up the crib furniture, arranged the books, washed and folded the clothes. We were ready. Where was our baby? Only time would tell.
Nearly a year after our first baby shower, we were painting our kitchen on a balmy November Saturday, when my husband's cell phone rang. He picked it up and then wide-eyed, handed me the phone. It was the social worker. Would we be interested in being considered to parent a just-born baby girl?
Three hours later, we got a second phone call alerting us that we'd been chosen. We had a few days to pack up and drive four hours to our daughter's interim care home. We were parents again.
We sat in the meticulously prepared nursery, filling a suitcase with gifts from the shower. Then I slid the luggage tag out of its holder and printed my now-daughter's name on it. In my heart, I spoke to her. "We're coming for you, darling."
Today we're a family of six. All four of our children were adopted. And all four of them have used some of the gifts we received at the very first baby shower. I've read them the same board books and clothed them in the same green and yellow pajamas. I can't bring myself to get rid of even the most tattered items. They smell like newborns. Dreams come true.
https://www.instagram.com/p/Bx9_j9WB0zH/?utm_source=ig_web_copy_link
Please don't overlook the moms-to-be who are waiting for their baby via surrogacy or adoption. We may not look like other expectant moms, but in our hearts, we are the same. We are waiting and yearning for the day our bundle of joy is placed in our arms.
And we're begging for you see us and celebrate our hope.
This article was originally published on