Adult Play-Doh Is Here And It Comes In 'Grown Up Scents'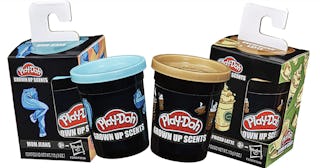 PLAY-DOH
Play-Doh is a perfect stress reliever, not that anyone needs that right now
Play time isn't just for kids and Play-Doh is stepping up to cater to all the kids at heart with a line called Play-Doh for Grown Ups.
Not only are the makers of Play-Doh giving us our own ball of putty to mold and squeeze, they come in "Grown Up Scents," like "Overpriced Latte," "Mom Jeans," "Dad Sneakers," "Spa Day," "Lord of the Lawn," and "Grill King." I'm not quite sure how mom jeans smell but it's worth purchasing just to answer the question.
Since most of us who've been home have been through the puzzle, movie, baking, arts and crafts, cleaning, and board games phases of this pandemic, it's time to introduce something new into the mix before we all lose our damn minds. Play-Doh allows kids and adults alike to create and build to their heart's content and then smash it all together and start again. If it gives us five minutes of stress relief right now it's more than worth it.
"The aromas are meant to evoke everyday things that bring adults joy, like brand-new shoes or freshly cut grass," brand general manager Leena Vadaketh told HuffPost. They're also geared towards "anyone who loves a good laugh."
"It won't solve your first world problems, but it's a great gift for men or women, fun white elephant gifts, stocking stuffers, fidget desk toys, gag gifts," the Amazon description reads. "Skip the line of coffee snobs with Overpriced Latte coffee scent, give your gal pal a Play-Doh Spa Day with floral scented, or give the ultimate dad joke comeback with Dad Sneakers new shoe smell. Smells like a pretty great gift or adult party favor that's sure to be a crowd-pleaser!"
The concept of Play-Doh for grown-ups actually dates back to the product's early days, when it was meant to remove dirt and other unpleasantries from wallpaper. When wallpaper went vinyl and semi-self cleaning, it was rebranded for kids and found smushed into carpets for decades to come.
Even though the new Doh is meant for adults, it's not the first time adults have gotten into the game. There are pages dedicated to Play-Doh uses and can also be used to help with hand exercises and to relieve stress. The fact that we can now relieve our stress whilst smelling grass and coffee is like the icing on the putty cake.
You can get a six-pack on Amazon for less than $12 and it seems the popularity has caught on. The product is currently out of stock but it will be back next week in time to order for friends and loved ones for this holiday season.
Happy creating.
This article was originally published on