From The Confessional: Lots Of Moms Are Having Affairs Right Now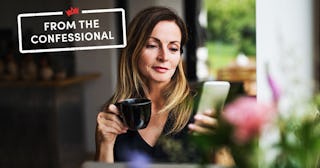 Halfpoint Images/Getty
A LOT of moms are taking to the Confessional to share all the steamy details of their affairs
A global pandemic isn't exactly the right time for an affair, necessarily, (though one could certainly argue if there is ever actually a "good" time for an affair), but that's not stopping many, many moms from dishing the tea on their affair partners in our Confessional.
Whether it's feelings of spousal neglect, or it's an act of revenge, or just out of pure boredom…these moms are committing adultery and have a lot of complicated feelings about it.
I had an affair because it felt wonderful to be desired by someone again. I'd prefer to be desired by SO, but that wasn't happening, and hadn't happened for a very long time.
Confessional #25794915
DAMN lucky that my affair was never discovered, I know this. But it's still Messy, 2 broken hearts bc it's too dangerous for us to be together, some days it's hard for me to even leave my bed. How do I move forward? How can I have a life when I love him?
Confessional #25793482
I have been having an online affair. Last night we saw each other. It was the most incredible night of my adult life. I dont even feel guilty.
Confessional #25793196
Whether it's a pandemic-influenced choice or not, many people are having an affairs and keeping it strictly online.
I have been having an online affair. Last night we saw each other. It was the most incredible night of my adult life. I dont even feel guilty.
Confessional #25793196
The boredom of being home all the time has led me to rekindle an online affair. I thought that this quarantine would bring me closer with my spouse, but they are just using work-at-home as an excuse to always be in work mode. The affair is just easier.
Confessional #25775506
I broke off my online affair and I am sad but mainly feel relieved and lighter. The small thrill wasn't worth the immense risk
Confessional #24319701
Many women say having an online affair makes them feel less guilty, but it's harder to brush off the feelings of how "real" it can get whether you've met your affair partner in real life or not.
According to the American Psychological Association, many studies suggest that even when there is no in-person contact, online affairs can be just as devastating as the real-world variety, triggering feelings of insecurity, anger and jealousy.
What I do at work: text with my online affair, nap in my (private) office, watch Netflix, drink in secret, scroll through SM... What I don't do at work: actual work
Confessional #10571411
I'm having an online affair. I think I'm in love with him. But I won't leave my husband because of our kids. I feel like a failure, this wasn't supposed to happen.
Confessional #3135617
I'm having an online affair and it's dramatically improving my married sex life.
Confessional #1747648
Statistics on online affairs aren't easy to come by, given their secretive nature in general. But a 2008 Australian study found that of 183 adults who were currently or recently in a relationship, more than 10 percent had formed intimate online relationships, 8 percent had experienced cybersex and 6 percent had met their affair partners in person.
More than half of the respondents believed an online relationship constituted unfaithfulness, with the numbers climbing to 71 percent for cybersex and 82 percent for in-person meetings.
I had an amazing online affair for 2 yrs before I found out I was being catfished. The guy turned out to be a girl. I was shocked and hurt but forgave quickly. It was hotter than ever. Friends with benefits
Confessional #1714244
DH hasn't touched me in months, so I'm having an online affair. I'm sad and depressed that things have come to this.
Confessional #1708988
Many of these affair confessionals surrounded women who felt emotionally and sexually neglected by their current spouses and partners.
A hot security guard and I send dirty pictures and videos to each other, which will soon spark into an affair. My husband and I no longer have a marriage, but not because of this
Confessional #25790429
I enjoyed my affair, the hottest sex I've ever had, I miss him like crazy. It was me who ended it. This is hell but it could've been a much worse end had we been discovered. AP is very upset, rightfully so, but I hope he knows how much I'm hurting too
Confessional #25788659
I've had an online affair with someone I don't know for 2 years. When we both decided to stop talking I actually cried because I've had better conversations with a stranger than my own husband. I'm lonely again...
Confessional #1635843
If you've got something to get off your chest, head on over to the Confessional and spill the tea.