Affordable Metallic Christmas Trees? Yes, Please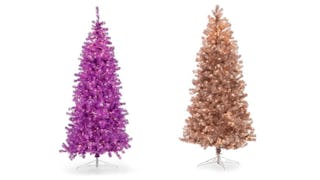 Image via Walmart
Once you buy an affordable, metallic Christmas tree, you'll never, ever look back
'Tis the season for Christmas tree shopping. If the idea of dropping a whole wad of cash on a tree that you'll eventually dispose of on the street sounds unappealing, I'd like to point you in another direction. Budget-friendly metallic Christmas trees are an equally festive option, and they're actually very, very pretty.
Real Christmas trees are nice and all…but a soft purple metallic tree with lights strung throughout? That's some real holiday magic. It stands at 7.5 ft tall and will make your living room look all kinds of sophisticated.
You can never say no to rose gold. Especially when it's in the form of a 7.5 ft tree, complete with clear, twinkly lights. This is officially the best excuse to buy all the other rose gold decor you've been secretly eyeing (because you don't want your new tree to be lonely).
Deck your home out with this dreamy Greenwood Pine tree. It's 6 ft tall and will deliver all of the snowy holiday cheer.
Okay, so, white Christmas trees are nice and all…but a white Christmas tree completely decked out in blue lights? Even the biggest of holiday grinches will get into the spirit with this one.
If you want to keep it a little bit more traditional, you can go with this 7.5 ft bad boy that looks just like a pine tree. It also comes complete with 350 clear lights and a dusting of gold.
Or go with this lush green tree, decked out with 450 mini multicolor lights.
Why yes, you do need a Christmas tree in the shape of a cheerful snowman. All that's missing are chestnuts roasting on an open fire.
This 6.5 ft beauty comes with 350 pre-strung clear lights. Now all that's left to do is buy presents to put under the tree (ughh).
Are you looking for an itty bitty baby tree that's already decked out with decorations? Look no further. This will deliver an extra boost of festivity with very minimal effort.
Or you could go in the complete opposite direction and buy this ginormous 8 ft. tall tree. Because Christmas comes but once a year, damnit. You might as well get a little bit extra.
Here's to putting limited effort into your Christmas tree this year and spending all of your time drinking spiked egg nog.
We are a participant in the Walmart.com Affiliate Program and may earn fees by linking to Walmart.com and affiliated sites.
This article was originally published on