My Son Got Very Sick Recently––The Common Cold & Flu Have Definitely Returned
by Kimberly Zapata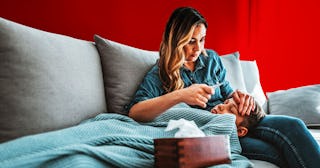 Scary Mommy and ljubaphoto/Getty
It started with a fever. 102. 103. Before midnight, the thermometer was topping out. My son's temperature had soared to a scary number: 104. Hours later, the cough began. An unsettling rasp, but nothing which was cause for concern. The biggest worry (at least at this point) was his fever, which we couldn't get to break. Tylenol. Ibuprofen. Sponge baths. Nothing was a match for his stubborn-ass temperature. He was beyond warm and lethargic, a ghost in a 30-inch shell. So I took him to the doctor. COVID negative. Common cold positive. We were told to wait it out.
Three days went by — then one more. The cough got worse. His breathing became labored, and I worried. Every minute for nearly a week. So we went back to his pediatrician. Something is wrong, I said. His fever is persistent, and his cough is terrifying. I don't think he can breathe.
They ran more tests. Took more swabs, and sent him for a chest x-ray — one which was labeled "STAT" — and around 5:00pm we found out why. My son had three viruses: the common cold, parainfluenza, and RSV, and these viruses had settled in his chest. He had pneumonitis, a form of pneumonia.
When was this, you ask? Two weeks ago. In the middle of the summer, when these viruses are typically dormant. He was infected with an unseasonable "seasonal" cold, and it turns out he is not alone. As COVID restrictions ease, viruses are beginning to spread — viruses which typically do not exist during the warm weather months.
"As masks come off, schools reopen, and some travel resumes, we should expect a resurgence of these viruses," an article on STAT explains. "Some experts fear we're in for a nasty cold-and-flu season or two, pointing to a combination of factors that could make for a rough re-entry to the mixed microbes world."
In fact, re-entry has already proven problematic. Earlier this month, the Centers for Disease Control and Prevention issued an advisory warning that respiratory syncytial virus, known as RSV, had been detected with increased frequency in ten Southern states. Numbers have also been ticking up in Utah, New Mexico, Texas, and New York City, with Brooklyn being something of a hot spot.
"RSV is the most common cause of bronchial infections and pneumonia in children under age 1, with a season that typically runs roughly from November to early spring," an article in the Washington Post explains. It can be dangerous in infants and young children, with severe infections requiring hospitalization.
My son was lucky. He overcame his illness at home. But RSV isn't the only virus circulating, as my pediatrician informed me — and my son's viral panel proved. Many "seasonal" illnesses are popping up. Dr. William Schaffner, an infectious disease specialist at Vanderbilt University Medical Center, recently told News Channel 5 more people are getting sore throats, coughs, and colds now that mask mandates are being lifted.
"Last year, because of all our masking and social distancing and kids not being in school, we had the lowest flu season in recorded history," Dr. Schaffner says. RSV rates were also shockingly low, and I personally didn't sniffle or sneeze once in 2020. For the first time in forever, I was the pinnacle of health. But with guidelines changing, germs are now able to proliferate and spread. The CDC expects respiratory viruses to circulate more widely this summer, as people relax coronavirus restrictions and schools and workplaces return to normal operations.
Make no mistake: I am happy people are receiving the COVID vaccine and thrilled that life is moving back to something (semi) normal. The fact that my son is in daycare and my daughter is in school is nothing short of a miracle. My husband, too, has returned to work. Masks are optional, at least for vaccinated employees. We are seeing people again, though our bubble remains small. And all of this is great. Truly. I am thankful for each and every meal, beach trip, and day.
But we have to be mindful that COVID isn't over, and the occurrence of RSV and flu-like viruses are on the rise. While we may not be able to stop the spread of these conditions, we can continue to do our part. Wear a mask if you are feeling ill. Better yet, stay home. And keep your littles home, too. Because every parent knows that a sick kid is the worst, whether it's COVID or the common cold.
This article was originally published on