Water On Most US Airlines Isn't Safe -- Not Even To Wash Your Hands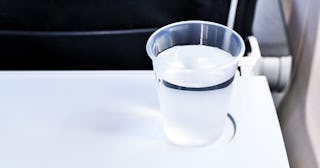 Eivaisla/Getty
A startling new study has revealed that pretty much all the water — from bathroom to drinking — on an airplane may be hazardous to your health
With shrinking seats, annoying people, and the potential dangers of airplane travel, flying the "friendly" skies isn't as much fun as it used to be. Not to put a damper in your day, but now there is something else you should think about before boarding a flight — the water, or any beverage that isn't boxed, bottled, or packaged for that matter. A shocking new study, conducted by Diet Detective and the Hunter College NYC Food Policy Center, has found that the majority of popular airlines in the United States fail to provide safe drinking and hand-washing water. Even scarier? It might be making people sick.
As part of the 2019 Airline Water Study, researchers investigated 11 major airlines and 12 regional airlines. The water quality they provided was scored on a scale of zero, being the worst, to five, the best. They looked at a variety of criteria, including the size of the airline, bacteria in the water and the amount of violations they had committed under federal government's Aircraft Drinking Water Rule (ADWR), which required airlines to serve safe drinking water. If an airline scored three or higher, it signified that they were serving safe (enough) drinking water. Scarily, only three of all the 11 airlines managed to pass — and just one of the 12 regional airlines.
Alaska Airlines and Allegiant had the safest water of the major airlines, tying for the top spot with 3.3, while Hawaiian Airlines finished second with a 3.1. The worst offenders were Spirit and JetBlue, who each scored a measly one out of five. Out of the regional airlines, Piedmont Airlines scored the highest with 4.33, while Republic Airways earned the lowest score, 0.44.
Obviously, we can't avoid flying altogether. So what should we do to protect ourselves from scary airplane water? DietDetective.com and the Hunter College NYC Food Policy Center urge you to avoid drinking any water that isn't bottled and sealed — including coffee or tea — when you are flying. Also, if you can help it, don't even think about washing your hands on the airplane. Instead, bring along your own anti-bacterial wipes or hand sanitizer.
So why is airplane water so dangerous? "An aircraft flies to numerous destinations and may pump drinking water into its tanks from various sources at domestic and international locations," claims the study. "The water quality onboard also depends on the safety of the equipment used to transfer the water, such as water cabinets, trucks, carts and hoses."
While the airlines themselves are obviously to blame, the study points out that the EPA also has responsibility. Like all of the major airlines, the agency was guilty of "very poor response time and lack of cooperation answering detailed questions." They explained that "the EPA didn't answer most penalty-related questions, and Spirit, Allegiant and Frontier did not respond to any questions. Very weak responses – and responses that didn't address questions – were provided by American, United, and JetBlue, which had a large number of violations during the past seven years."
So yeah, next time you are flying, make sure to stick to bottled water and hand sanitizer if you want to keep your health in check.