Boozy Advent Calendars Are The Best Invention Ever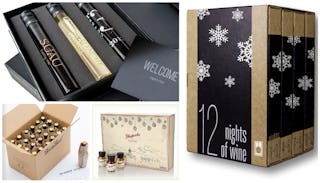 Image via Vinebox, Master of Malt & BoozeBud
It's the most wonderful time of the year and arguably, the most stressful. Thanksgiving is over and we're now officially in the middle of the holiday season, which brings the "joys" of shopping, decorating, baking and dealing with super excited kids who won't calm the hell down.
Bottom line? Parents need drinks more than ever.
Thankfully, the alcohol gods heard our fervent pleas, as there's now a plethora of options for booze-filled advent calendars to work our way through next month. As our kids open tiny doors on their chocolate calendars counting down the days until Santa arrives, us grown-ups can count down in our own special way — by chilling out and getting our buzz on.
Behold. So many possibilities.
For the beer lover, there's BoozeBud, which offers 25 days worth of craft beers or ciders. The collection costs $100 plus shipping and includes 25 individually wrapped and numbered brewskis or ciders to savor in the weeks leading up to the big day.
Up next is an option for wine fans from Vinebox, and although it's not 25 nights worth of drinks, it does cover the 12 days of Christmas. If you're really hung up on the idea of an authentic advent alcohol countdown, just buy two. The cost is $129, but that includes shipping. A total bargain, amirite? The good news is if you order on Cyber Monday, the price is down to $109.65. Shut up and take our money!
According to their website, each box is hand-numbered with wines curated by expert sommeliers. That's all fine and dandy, but the big sell here for girls like me who happen to enjoy pretty packaging is the gorgeous vials each glass of wine comes in.
Last but certainly not least, we have advent calendars full of liquor brought to us by the geniuses at Master of Malt. They boast quite an assortment of spirits in their advent collection including whiskey, tequila, bourbon, gin, rum, cognac, vodka and many more. If you can't find something to satisfy your inner party animal here, then you should probably just stick to chocolate.
Prices for the products vary, but there are several options in the $100-200 range. Just be careful you don't drink while shopping and accidentally buy the $10,404 calendar full of rare whiskeys. That might put a bit of a damper on the old Christmas gift budget.
Happy drinking!
This article was originally published on