Alcohol Is Ruining My Life
by Autumn O'Shea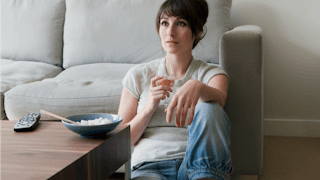 Clarissa Leahy / Getty
I'm a wino mom, for sure. A glass of Merlot as soon as the clock strikes five. By bedtime, the bottle's empty and I'm either drunk or damn close. Some nights are better than others. If I have a big day scheduled for tomorrow, I'll take it slow or hold off altogether. But other nights, the goal is to get drunk. Period.
Don't play that "glass of wine or two" shit on me. I don't even want to drink if that's all I can have. This booze thing … it's a tease, it's a game, it's a journey to see how much I can drink without other people noticing or me collapsing on my bed — whichever comes first.
But am I an alcoholic?
I don't drink every day. And when I'm alone with the kids I don't drink at all. I always wait til after 5 pm to start, and I'm in bed by 9… hoping to sleep everything off by morning.
But some mornings after heavy drinking are rough. Really rough. I get out of bed because I have to, but it hurts. My head is pounding, my stomach is weak. I have to face the day because I have kids to take care of, whereas back in the day I could sleep the nausea off. A day of plans — errands, chores at home, activities with the kids — often turns to me nursing my wounds and pushing things off until tomorrow.
But am I an alcoholic?
My dad was an alcoholic. He started drinking beer before 9 am. He transitioned to gin by the afternoon. He was taking us kids to school, driving us home and to volleyball practice. He was hiding his booze in the dresser, the cabinet, under the sofa… When his jig was up, even he was the first one to tell you he was a raging alcoholic and he wanted to stay that way.
I drink wine like seemingly every Facebook mom on earth. I self-medicate to get through the kid tantrums, the pressure to do and have it all, and the utter boredom of being at home all damn day. I am somewhat "responsible," never driving under the influence, keeping my inebriation in check most of the time. But I track time by when my next drink will be. On Thursday, at the networking party? Or on Saturday, when my husband and I have a date night? And when the drinking starts, my only concern is where I will get my next glass. Can I order another drink now? Or should I wait til we get home? I'm on a hunt, and I'm hungry for more more, always more. There is never a "that's enough" feeling. It's only when the head fades to black that I am done.
My health is in check. My vitals are all good. I eat a lot of kale and I work out daily. But still, this almost-daily drink obsession is destroying my life. It eats at me, demanding more more more all night and feeding my guilt and shame in the morning. It holds me back from being a great mom, wife, friend, and person and limits my opportunities to do great things — for myself, for my family, for our future.
But all my friends drink wine. We all joke about "wine o'clock." We meet for girls night and pound wine like it's about to go bad. Everything's more fun with booze, and the perils of parenting go from exhausting and isolating to hilarious and revelatory. Surely we can't all be alcoholics. We're just women who need a break. I'm just a mom who needs an outlet.
I'm smart, I'm active, and I have a family that loves me. I have people around me who I love dearly and could potentially leave me if I can't get my act together. I have little kids who count on me for their survival and need me to be secure, focused, and sober.
But am I an alcoholic?
A resounding yes. And recovery starts now.
This article was originally published on