7-Year-Old With Cancer Runs Bases At MLB Game And There's Not A Dry Eye In The House
by Valerie Williams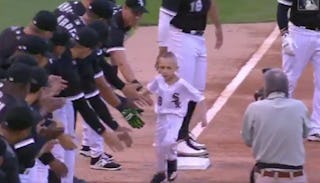 Image via MLB/Twitter
Alex Estrada had the whole stadium cheering him on as he scored a "home run"
Today we bring you a story so bittersweet it's hard to know whether you should smile or sob. OK, you'll probably do both. A little boy got the chance to live out the dream of millions of kids by spending a day with a major league baseball team. The reason why he got to do something so totally amazing is enough to break any parent's heart.
Seven-year-old Alex Estrada is battling stage 4 high-risk neuroblastoma. According to the Chicago Sun Times, this is his second time being treated for the disease, which was initially diagnosed in 2015. He spent 18 months undergoing chemotherapy, radiation, stem-cell transplant, stem-cell harvest and surgery only to have his cancer relapse just six months later. This child has spent nearly half his life going through cancer treatments.
Which is why watching him sprint around the bases at Guaranteed Rate Field high-fiving every player on the Chicago White Sox and Cleveland Indians teams is enough to make your heart explode. He got to hit a "Home Run For Life" and it's basically impossible to watch him and not get choked up.
Is your heart currently in one million pieces? If so, I'm glad to have the company.
His exciting trip around the bases wasn't the only fun he had with the team. Estrada got to spend an entire day in the life of a major league baseball player. He's already undergone nine of an eventual 17 rounds of treatment, but in no way did it stop him from having an absolute blast. His father, Vince, says his energy levels are still like any child his age. "He doesn't let it hold him back. Even at the hospital with IVs, we're constantly yelling at him, 'You can't run, you can't run, you gotta walk,' as he's pulling his IV pole around."
Estrada got to take the field with the team to do some stretching, warm up in the bullpen, do a little batting practice, and even sit in the hot tub before scoring his special home run. The entire outing was a complete surprise for the little boy, who was picked up from daycare in a limo that held his father and Southpaw, the team's mascot. "As far as he knew, today was just a normal day," says Vince.
The entire thing was made possible when a White Sox contact at Lurie Children's Hospital suggested Alex would be the perfect kid for this special experience. It's part of an event called Sox Serve Week.
Before his major league debut, Estrada could be heard in the Sox clubhouse yelling, "I'm having so much fun."
We can't think of anyone who deserves it more.