Listen To A-Rod Call JLo His 'Dream Date' 20 Years Ago And Believe In Love Again
by Leah Groth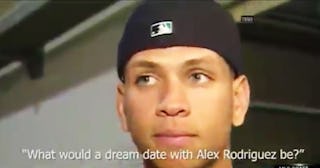 MLB
Back in the 1990s A-Rod revealed J.Lo was his dream date, proving dreams do come true
When it comes to the most adorbs couples in the celebrity world, Jennifer Lopez and Alex Rodriguez are the reigning king and queen of the prom. The former slugger and the smoking hot superstar make no secret that they are absolutely smitten with each other, expressing adoration for each other every chance they get.
Well, apparently Rodriguez has been crushing over Lopez for decades, and you don't have to take his word for it. He has video evidence in the form of a clip, captured back in 1998 during an interview with the MLB Network and the celebrated slugger.
The nine-second sound bite starts with the journalist asking a young A-Rod about his dream date. While he neglected to go into details, he answered without any hesitation whatsoever who is dream date would be with. "Jennifer Lopez," he said eagerly. "Hopefully you can find me a date with her." Well, it might have taken a little longer than he hoped, but eventually he got his wish.
A-Rod shared the clip, along with the equally sigh-worthy caption, on his Instagram. "I just had a feeling," he wrote. Of course J.Lo had to respond, because, duh. "OMG…i love this too much," she commented, along with a few black heart emojis.
https://www.instagram.com/p/ByUFOCpgpwW/
This isn't the first time A-Rod has provided evidence that he has been crushing over Lopez for decades. In October, the former New York Yankees star shared a personally autographed photo from Lopez as evidence.
If we were to discuss every time the couple's love has sent goosebumps trickling down our arms, it would literally be a novel. One of our favorite moments in Jennifer and Alex's romance was without a doubt, their his-and-hers 2-year anniversary posts.
I mean, literally, their words proved that two people can't love or respect each other any more.
Just a month later the loved-up couple revealed their engagement, which came as a surprise to absolutely no one. However, the size of the rock Rodriguez handed Lopez was literally jaw-dropping. I mean, look at that thing.
Though we needed no additional proof supporting the J.Lo + A-Rod = True Love equation, this video is just one more piece of scientific evidence that if things are meant to be, they will happen in their own time. And keep bringing it on, guys. Witnessing your love story unfold is better than curling up and watching most of the romcom's that Lopez has starred in. Especially Jersey Girl and Gigli.