Alex Trebek's Daughter Shares Touching Father's Day Tributes: 'Missing You'
by Erica Gerald Mason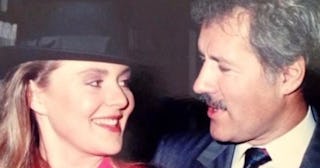 Nicky Trebek/Instagram
It's the Trebek family's first Father's Day without the beloved game show host
As Father's Day celebrations unfold, some struggle with missing their papas, including Alex Trebek's oldest daughter Nicky, who posted several tributes in honor of the holiday.
Another photo shows one of those quiet, sweet family moments we tend to take for granted: her dad Alex, surrounded by his three kids, Emily, Nicky, and Matthew.
"Seems like a minute ago #missingyou #trebekgang #dadlove," Nicky captioned the post.
The longtime Jeopardy! host died on Nov. 8 at age 80, a year and a half after he was diagnosed with pancreatic cancer. And since, Nicky has taken to Instagram to share sweet tributes of her papa.
"Definitely dad's #spiritanimal," she recently posted. "He really loved this mammal in all it's #majestic #peacefulwarrior #muskox #umingmac #happyfathersday."
Earlier this year, in March, Nicky reflected on the day her dad announced he had been diagnosed with pancreatic cancer.
"It was 2 years ago today while we were working on the @jeopardy set that my dad bravely stepped out in front of the camera," she wrote, in part.
"He brought much-needed #awareness to this terrible disease and provided #hope to so many struggling," Nicky continued. "I'm beyond proud of him for his courage and integrity throughout his illness So I'm continuing what he started and will fight for everyone affected by pancreatic cancer. That's why I support the Pancreatic Cancer Action Network @pancan in their #mission to improve patient outcomes. You can too by visiting and donating at http://PanCAN.org. #fightcancertogether #peacenlove."
A month prior, Nicky took to Instagram on the three-month anniversary of her father's death.
"I #choosejoy," she wrote. "This always makes me laugh thinking about how many times he did that trying to get it right."
Nicky also honored her father's life and his legacy earlier this year when she watched her dad's last episode of the beloved game show, which aired Jan. 8. The episode was filmed 10 days before Trebek died.
"You were extraordinary!!!" she wrote on Instagram alongside a photo that read, "Jeopardy! Forever!"
Last year for Father's Day, Jean interviewed her children to talk about Alex as a dad. The article appeared on Insidewink, where Jean works as an editor. During the interview, Nicky described her admiration of her father.
"His generosity to everyone and his humility about it," she told Insidewink. "I personally experienced him writing hundreds of thousands of thank-you notes while he battled for his life. It's truly astounding. I honestly can't even put it into words."
Jean asked the children what they would find on their father's desk. And in a sweet memory, Nicky recalled a trinket she gave her papa: "[He kept] a rock I gave him that says, 'I believe in you.'"