Alex Trebek Finishes Chemo And Will Return For The New Season Of 'Jeopardy!'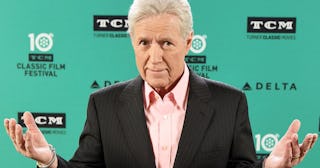 Presley Ann/Getty
Alex Trebek isn't letting a little thing like cancer hold him back
Hearts broke everywhere when Alex Trebek announced last year that he was battling pancreatic cancer. We couldn't help but wonder if the fatherly game show host who's been welcomed into our living rooms every night on Jeopardy! might actually have to step back from the show.
Since then, though, Trebek has only had positive updates to share. Two months after going public with his diagnosis, he made a heartwarming speech at a cancer walk, calling himself a "62-day survivor" to cheers from the crowd that was there. And in June, he shared in a People magazine cover story that he was near-remission, mending our broken hearts at the thought of losing the beloved Jeopardy! host.
Well, we need not worry about that for now. Jeopardy! is back for its 36th season, and so is Trebek.
In a trailer for the upcoming season, Trebek assured fans that there was nothing to worry about, that he's back and ready to keep hosting the show that made him a household name.
"It's another day at the office for me," he says in the trailer, which shows clips of interviews with him interspersed with behind-the-scenes action from the upcoming season.
"It's an exciting day, because so many great things have been happening," he continues. "I've gone through a lot of chemotherapy, and thankfully, that is now over. I'm on the mend, and that's all I can hope for right now."
Needless to say, people are very pleased to hear that he's doing well.
https://twitter.com/jetpack/status/1167144443667013640
If you ask us, Trebek is looking great. He looks healthy and happy in the trailer, and even stops to do a couple pushups backstage before entering the show's set to huge applause from the in-studio audience. Clearly, he's trying as hard as he can to ease any lingering fears we might have about his health, and it's working. Now excuse me for just a minute, I seem to have something in my eye.
The trailer also features a short clip of the episode that was filmed on Trebek's birthday, when he was presented onstage with a cake that reads, "Who is 79?" while the audience sang "Happy Birthday." If that moment doesn't get you a little misty-eyed, nothing will.
In short, Trebek seems to be beating his cancer, even though he hasn't given us a definitive health update. We don't know if he's in remission or nearing it or something else, but "on the mend" sounds like he's positive about the future, and because of that, so are we.
Trebek isn't the only celebrity to have a scare with pancreatic cancer recently. Ruth Bader Ginsburg just revealed that she's undergone treatment for pancreatic cancer this summer. Ugh, cancer sucks, and we need it to stay away from our favorite celebs now.