Mom Catches 4-Year-Old Singing 'Remember Me' To Photos Of Baby Sister He Lost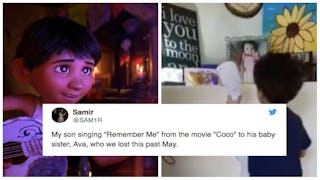 Image via Disney Pixar/Twitter
The video has quickly gone viral because it's heartbreaking and sweet
We often don't realize just how much small children are capable of comprehending. While grief is certainly complex, children feel it even if they don't understand it. A video of a four-year-old boy singing a song from Pixar's Coco has gone viral and touched the heart of thousands of people all over the internet.
He's singing to a photo of his baby sister, who passed away last May.
Alexander Vasquez is the little boy in the video, seen strumming a guitar in front of a photo of his baby sister, Ava, and singing "Remember Me" from Coco.
"He's only 4 years old and he understands," his stepdad, Samir Deais, shared on Twitter. For those unfamiliar, two major plot points of the movie Coco are wrapped up in a little boy who loves to play the guitar, and also in Dia de los Muertos, the Mexican holiday of the Day of the Dead. The song "Remember Me" is an emotional part of the film — and it looks like little Alexander totally understands the true meaning behind it.
He was singing to his baby sister on what would have been her first birthday — but she tragically passed away at just four months old. Deais told TODAY Ava suffered from a kidney disorder during her short life. "My wife captured the moment when she was cleaning nearby," he says. "Instantly tears came to my eyes. It's wonderful to see how much he loves his baby sister. He also gives her goodnight kisses at the alter every night and asks her to give him in a kiss in the middle of the night when he's sleeping as well."
People everywhere were deeply touched by the heartbreaking sweetness of the video.
https://twitter.com/jetpack/status/947972543981301760
For his part, Deais is grateful the video of his son resonated with so many people, especially on what would have been his daughter's first birthday.
https://twitter.com/jetpack/status/948209730115260417
Movies like Coco are a real treasure, because not only do they provide a brief escape into a whole other world for a time — they can even help kids like Alexander cope with their grief.
Last fall, Deais shared some uplifting news about his family after such a devastating year.
We're all sending lots of love and light to Samir, wife Stephanie, Alexander, and their expanding family in 2018. Alexander has proven he's already one heck of a big brother.