Alexandria Ocasio-Cortez Inspires Young People With The Most Relatable Tweet Ever
by Cassandra Stone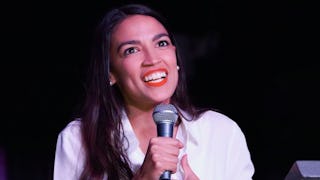 Image via DON EMMERT/AFP/Getty Images
Every tweet she tweets will make you love her even more, honestly
Alexandria Ocasio-Cortez is a leading star in the progressive political movement. Ocasio-Cortez is officially the youngest woman to ever get elected to Congress at 29 years old, and if nothing else, her campaign proves it's futile and downright silly to dismiss someone's potential for what they can accomplish based on age alone.
That being said, other twentysomethings (and early thirtysomethings, ahem) need not feel bad about her impressive resume, because she is truly just like the rest of us.
The Boston University alum unseated a 10-term moderate incumbent because her constituents, like so many of us, are ready for a change. A big one.
One Twitter user shared in the awe surrounding Ocasio-Cortez by interjecting some self-deprecating humor (also something we can all relate to).
"At 29 my biggest achievement was discovering I should maybe exercise." LOL. Ocasio-Cortez saw the tweet and decided to respond to it, and honestly — it's so real and so inspiring.
"Last year I was bartending and I bought my first couch two weeks ago — shortly after I got health insurance." Come on, she's serving some seriously relatable truth here. And beyond that, sharing this is inspiring so many young people to stay active, involved, and passionate.
In fact, NextGen America reports the youth voter turnout (people ages 18-29) for the 2018 midterms was higher than any other midterm election in 25 years.
Ocasio-Cortez represents what we need to see more of in politics in order to feel truly represented: someone who is passionate, someone who didn't get where she is in the political arena because of privilege, and someone who doesn't accept corporate campaign money. She's true to herself and her progressive platform.
People everywhere were inspired by her relatable admission.
She's absolutely right about growth too. We grow more as human beings from the dips and valleys we experience while setting our sights on the peaks.
"We're all closer than we believe."
We stan a true queen. Congratulations Representative Ocasio-Cortez, and to every single person you'll be working for.