Alicia Silverstone Sets The Record Straight On How To Pronounce Her Name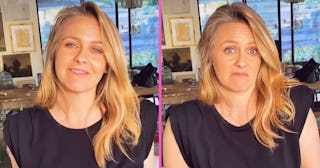 Alicia Silverstone/TikTok
Alicia Silverstone says it's Ali-SEE-yuh, not Ali-SHUH
Actress Alicia Silverstone is a 90s icon, but despite her decades of fame, apparently the world still doesn't know how to pronounce her name properly. Now she's using her new TikTok account to teach us the right way, once and for all.
The Clueless star stitched a TikTok video that asked users to "tell me what your name is… and then tell me what people mispronounce it as."
"Just an FYI…it's Ali-SEE-yuh," she wrote. The cute, and dare I say eye-opening, video wracked up more than a million likes and six million views within a day of being posted. People in the comments were left totally buggin' on the lesson on pronouncing her name, with one writing, "Excuse me while I question my entire life…"
"Oh my good I'm just finding this out NOW?! After all these years?!" another wrote.
(My personal favorite comment though, was "I thought her name was Drew Barrymore????")
I can relate to stalling for a few decades before correcting people on how to say your name — I'm 37 and I'm still letting people call me Kristen, Kristine, and occasionally Katherine. Proper pronunciation just doesn't seem to stick for me, and might not for Ali-SEE-yuh, either. We've all been thinking of her as Ali-SHUH since roughly 1995 (and even earlier, if you're old enough to remember her from the Aerosmith video days on MTV). The even younger generation may only know Silverstone from her recent turn as Kristy's mom on Netflix's The Babysitters' Club series.
Luckily, the actress says she hasn't been particularly peeved by the way we've all been saying her name. "It doesn't bother me though!" she said in the comments. "But my sweet mama didn't like it… so for her… get it right!" Can't argue with that.
Silverstone is truly an icon, no matter how you pronounce her name. She's only been on TikTok for a week or so, but she arrived with quite a bang. Her first two videos — recreating the classic "As if!" scene from Clueless, with that iconic yellow plaid blazer that is somehow still in style — got nearly 60 million combined views.
She might be Ali-SEE-yuh — but she'll always be Cher Horowitz, too, and I think everyone can pronounce that.