Alicia Silverstone And Her Son Adorably Recreate Iconic 'Clueless' Scene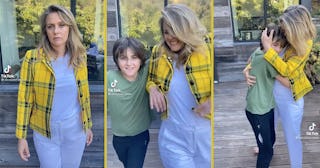 Alicia Silverstone/TikTok
'Ugh! As if!'
And the most epic TikTok debut goes to… Alicia Silverstone and her son, Bear. Taking cues from fellow stars from beloved '90s teen films, like Gabrielle Union of 10 Things I Hate About You and Bring It On, Silverstone nailed her first TikTok post recreating the iconic "Ugh, as if!" moment from '90 hit film, Clueless, with the help of her 10-year-old son — and a yellow plaid blazer.
Silverstone made her TikTok debut on Friday giving people exactly what they want: an epic throwback. In the quick clip, Silverstone dons a yellow blazer reminiscent of the one she wears in the 1995 film and struts forward to the equally as popular '90s hit, "Just a Girl" by No Doubt.
Bear, who Silverstone shares with ex-husband Christopher Jarecki, then comes into frame and puts his arm around her shoulders, when Silverstone as Cher then mimics that unforgettable scene where she utters those three iconic words.
"Ew, get off of me! Ugh, as if!" Silverstone flawlessly lip-synchs — as she would. Bear then comes back into frame, and he's given a mama-bear hug.
https://www.tiktok.com/@aliciasilverstone/video/6970041350955781381
"Ugh! As if… I wouldn't join TikTok," Silverstone captions the adorable 10-second clip we swear we've watched at least 15 times by now.
In the original scene from the film that celebrated its 25th anniversary last year, Cher explains that all high school boys are "dogs."
"You have to clean them and feed them, and they're just, like, these nervous creatures that jump and slobber all over you," she says, as a guy tries to throw an arm around her.
And while we all love the line, Silverstone's favorite from the film is actually one of the late Brittany Murphy's, who played the role of Tai.
"I love when Brittany Murphy says, 'You're a virgin who can't drive,'" she tells ET. "In my life, sometimes for fun, to make myself laugh, I'll say, 'Oops! My bad.' I really like, 'Well, you see how picky I am about my shoes and they only go on my feet.'"
It's no surprise Bear was game to recreate the scene: He's a fan of the film, after all.
"He'll bring little things [about the movie] up," she said of her son who watched the film at a screening at a cemetery. "One night we were laying in bed and he wrote Clueless Part 2 and what/where Cher would be. It was unbelievable what he thought. She was an alcoholic but he didn't say those words. He was like, 'She drinks a lot and maybe she's a makeup artist? Like a professional makeup artist.'"
"The way his mind was going about it was really killing me," Silverstone continued to tell ET. "The biggest thing he took away from the movie when he saw it was the kiss. He hadn't really seen a kiss like that, so from then on, he's been trying to kiss me like that like 'Mmmmmmm,' — grabbing me and trying to get his tongue in there. I was like, 'Oh no, this is why we don't show [him the movie!]"
Welcome to TikTok, Silverstone!
This article was originally published on