Writer Pens Heartbreaking Column On 'Beautiful Life' While Fighting Cancer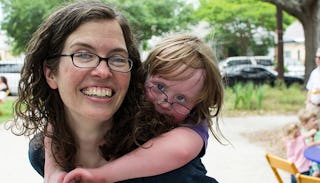 Journalist with brain cancer thanks friends, family for beautiful life in last column
Writer and mom Alison Piepmeier thanked those who made her life beautiful in what will likely be her final column. She wrote it from her hospice bed where she's fighting brain cancer.
"What does it mean when the rest of your life may be measured in weeks?" the column for the Charleston City Paper starts out. Piepmeier is a journalist, professor, sister, wife, and mother. Like most writers, she covers what she knows and seven years ago that list came to include brain cancer. Last month, her tumor became progressively bigger leaving her with zero treatment options. She's currently in hospice care.
"There are too many acts of kindness to report. People send me meals, cookies, and delicious treats from Charleston and all over the country. I receive prayers and poems," she shared in the column. "Of course, I know what's up. All this amazing generosity is, sadly, another sign of my imminent death. How can I exist in this place, where I'm so grateful and so sad?"
Piepmeier also shared the heartbreaking moments she's experienced as a parent who is fighting cancer in her column and blog. "I felt sick with sadness about the fact that I won't be in her life … I want to see her more, longer," she shared in one blog post. In her column, she wrote about how the joy of having a princess party for her 6-year-old. Piepmeier is a feminist scholar so usually not a big fan of princesses.
"It was the first princess party for Maybelle, and it was wonderful in every way. On that day, I didn't say a single negative thing about princes, princesses, or Disney movies," she wrote. "I am happy, so happy, to have experienced a princess party. I am so sorry there won't be more of them for me, if only because I would never turn down the chance to experience the pure joy of my daughter singing "Let It Go" over and over."
Piepmeier told ABC News that she really wanted to write this piece. "This column was especially hard to write. I've spent years writing about cancer, but also about children, disability, abortion, Down syndrome, homophobia, and other challenging topics," she said. "I wanted to finish by writing about things that always matter, but especially those things that matter at the end: love, family, friendship, gratitude, and forgiveness. I wanted to say goodbye while I still could."
And she did so by thanking the people who have helped make her life beautiful. "Because I should not go without saying thank you to all those whose caring has sustained me and whose kind words have created many moments of joy and beauty," Piepmeier wrote. "To my brothers, parents, friends, teachers, students, co-workers, lovers, and readers, I ask forgiveness for anything I've done to hurt you. Thank you for my beautiful life."
And even though her gratitude is in her print, Piepmeier told ABC News she's spending her final weeks with the friends and family that made it so special. "For the time I have left, I want to be with people I love and who love me," she said. "I am sad — tears are an everyday experience — but I love being with people who have cared so much for me, who have made my life rich, beautiful, and rewarding."
This article was originally published on