A Female Tennis Player Got A Violation For Changing Her Shirt On Court And It's Sexist AF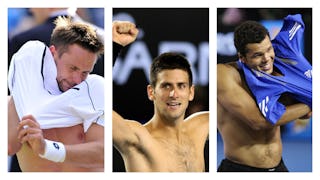 Image via GLYN KIRK/Getty/GREG WOOD/Getty/WILLIAM WEST/Getty
Tennis Player Alize Cornet was given a violation when she changed her shirt on court, which is a ridiculously sexist double standard
Today in infuriatingly sexist news, French tennis player Alize Cornet was handed a code violation when she changed her shirt on the court during the U.S. Open – even though men are allowed to do the same, penalty-free. Unsurprisingly, this ridiculous double standard is sparking plenty of backlash across the internet.
Cornet had returned to the court after a ten minute break when she realized her top was on backwards. The tennis player swiftly took her shirt off and turned it around. The whole action took only a few seconds and she was wearing a sports bra underneath. Seems fine, right? I mean, male tennis players can take their shirts off and nobody says squat.
Well, turns out it wasn't fine. The umpire quickly hit Cornet with a violation for changing her shirt on the court.
Backlash was swift. "Alize Cornet came back to court after 10 minute heat break," tennis coach Judy Murray tweeted. "Had her fresh shirt on back to front. Changed at back of court. Got a code violation. Unsportsmanlike conduct … But the men can change shirts on court."
Tennis player Bethanie Mattek-Sands responded to Murray's message, writing: "That's weak." Casey Dellacqua called it "ridiculous."
https://twitter.com/jetpack/status/1034559654041403392https://twitter.com/jetpack/status/1034565269224673283
Some people took to Twitter to share pictures of male tennis players shirtless on the court to illustrate the frustrating double standard.
Thankfully, some good came out of all this. The United States Tennis Association released at statement explaining that Cornet should not have received a violation, though, they noted, shirt changes should only be done while the player is sitting in a chair.
"We regret that a code violation was assessed to Ms Cornet yesterday," the association said, per Metro. "We have clarified the policy to ensure this will not happen moving forward."
This is the second time in the past few weeks that a female tennis player has run up against outdated, gendered policies. Earlier this month, French Tennis Federation President Bernard Giudicelli announced that they would be instituting a new dress code for players, out of "respect" for the game. He specifically pointed to Serena Williams's athletic catsuit, which she wore to help her blood clots (the tennis player almost died from blood clots while giving birth to her daughter last year).
Williams heard his feedback loud and clear. She returned to the court wearing a jet black custom-designed tutu like the damn queen she is.
"The policing of women's bodies must end," tennis legend Billie Jean King tweeted following Giudicelli's statement. "The 'respect' that's needed is for the exceptional talent ⁦@serenawilliams⁩ brings to the game. Criticizing what she wears to work is where the true disrespect lies."
This article was originally published on