All About Me Poster Tips (And Printables) For Your Super Proud Super Star Student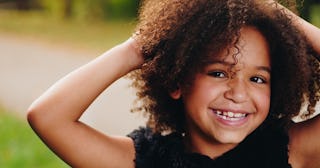 Eye For Ebony/Unsplash
Remember being "Student Of The Week" or "Student Of The Month?" Was there a more glorious feeling in the world than creating your "All About Me" poster? The thrill of deciding what special facts you want to highlight about yourself. The fun of going through photos with your parents to decide on the best ones to display. It was all just so exciting and wonderful for a kid. Your parents probably told you that you were special at least once a day. But, nothing compared to hearing your teacher choose you for this special honor.
Then, you got to present your poster to the class and walk by it every day, reminding you that you were the star of the show. Nothing was better. And, honestly, if there was an adult version of "student of the week" that involved making All About Me posters, we'd be all about that. Even Employee Of The Month doesn't get that kind of fun, though.
We can, however, live vicariously through our children. If your amazingly wonderful, precious, beautiful, intelligent, and talented babe was just named some version of "Star Student," then it's time to make an All About Me poster. With so many schools closing due to Covid-19, if your kiddo is stuck in quarantine and studying remotely, this might be an even better time for a poster that reminds them just how wonderful and special they are.
All About Me — The Deets
There are a ton of printable All About Me pages. Many are even super cute. (We'll get to those further down the page.) You can totally go that way and create an awesome poster. As a matter of fact, some teachers will request exactly that. If, however, you're a collage-making, creatively indulgent parent looking to work from scratch, that's even better. It's been a while since your days as Star Student, though, so we don't expect you to remember everything that goes into the poster. Here's an idea of what you might want to include.
Basic Info
You want to add some basic information up top. These are things like your kiddo's name and birthday, but it can go a tiny bit deeper. Ask your child if they want to share info about who they live with. They might also want to boast about their siblings or pets.
Favorites
Pick and choose a few from this list:
Food Color Animal Place Subject Book Restaurant TV Show App (Feel old, mama?) Movie
All The Extra Special Things
Your little bug was deemed special for a reason and it's probably not because their favorite color is purple or their Goldendoodle's name is "Hawkeye." Do they have a unique hobby? Play a sport well? Are they really good at math? What do they want to be when they grow up? (This is always a fun thing to include for future firefighters, ballerinas, or astronauts. However, you'll want to highlight it if your first grader is already telling people she wants to be a writer, president, Eliza Hamilton, or Hercules Mulligan.)
Picture Ideas
Many printable All About Me posters only have room for a picture or two. If, however, you're DIYing this business or if the teacher asks for other photos, make sure to have a good variation. Pictures with you, other family members, and any pets or siblings is a must. It's also nice to include a baby picture — little kids, especially, enjoy those. If they had a really great Halloween costume two years ago or if they have a favorite picture from vacation, make sure you include that, too. It's also okay to include a picture of someone that isn't alive anymore. Grown-ups are great at shutting down their emotions, but kiddos process things by talking about them. They might want to include a picture with their papaw so they can tell their classmates about how he was a farmer. Let it happen. Even if it hurts a little.
Printable All About Me Posters
Okay, okay. We know why you're here. These were our favorite printable All About Me poster options.
Guys! The picture goes on the robot's head. You essentially turn your little munchkin into a robot. What more could a kid want out of life than to be turned into a robot? This seems like an exceptionally awesome option if your child's talent is something tech-y, like coding or beating their dad at video games.
If your star student is really young, they may not have much they want to include. Sometimes "All About Me" posters are also used as a way to give a short introduction of themselves on the first day of school, so including a ton of info just isn't feasible. This option is perfect for both instances.
Sometimes the best way to know if your child's teacher is going to be cool with your choices is to just look at what other teachers are using or recommending. This printable poster is from a teacher's website and is a great middle-ground between DIYing it and doing something super basic.
Each All About Me poster is different depending on the age of the child, so what do you do if your kiddo is of preschool age? No sweat, there are special All About Me posters just for preschoolers! These simpler designs are printable, easy to fill in, and fun for younger kids to decorate.
Other Teacher-Approved Project Resources
Once you and your star student have created an All About Me poster, you might feel inspired to do more projects together. To that end, here are some incredible, teacher-created, packed-with-projects sites to get you started.
Since TpT was quite literally designed for teachers, you know it's chock full of top-notch educational resources — more than 3 million free and paid resources, to be precise. One of our new favorites? Their collection of resources for anti-racism and social justice education.
Really Good Stuff is, well, really good stuff. They boast a really big free resources library, where you'll be able to find activities for everything from writing exercises to holiday celebrations.
Quotes About Being Yourself
Of course, the most important thing about the "All About Me" poster is that it showcases your child's unique personality. To that end, read these quotes together for motivation and inspiration.
"Be yourself; everyone else is already taken." — Oscar Wilde
"To be yourself in a world that is constantly trying to make you something else is the greatest accomplishment." — Ralph Waldo Emerson
"To shine your brightest light is to be who you truly are." — Roy T. Bennett
"Always be a first-rate version of yourself and not a second-rate version of someone else." — Judy Garland
"Don't ever let a soul in the world tell you that you can't be exactly who you are." — Lady Gaga
This article was originally published on