All-Girl Engineer Team Invents Solar-Powered Tent For The Homeless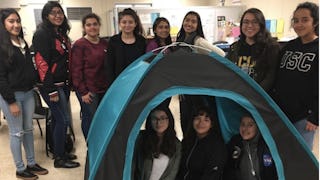 Image via Instagram
The future is in good hands
After witnessing the increasing number of homeless people in their community, a team of high school girls with no previous DIY experience joined forces to find a solution. It took a year, and over the weekend, they presented their invention at MIT's young inventors conference.
The twelve girls attend San Fernando High School, which is 20 miles outside of Los Angeles. According to a story on Mashable, homelessness in the area increased 36% last year.
Danielle Orozco and Veronica Gonzalez, both members of the tent team, wanted to do something to help.
"Because we come from low-income families ourselves, we can't give them money," Orozco explains. "We wanted to offer something besides money," Gonzalez, adds.
So instead, they created a solar-powered tent that folds into a backpack. The girls were recruited and encouraged by Evelyn Gomez, the executive director of DIY Girls and a former students at San Fernando High, and they received a $10,000 grant from the Lemelson-MIT program.
DIY Girls was founded in 2012 and participation has quickly sky rocketed from just 35 elementary school girls that first year to 650 students in elementary, middle, and high school in Los Angeles county in 2016. The National Science Board's numbers show that women only make up 29% of the science and engineering workforce, and only 6% are Latina. Gomez, who studied at UCLA, wants to help change that.
"I studied aerospace engineering. When I was getting my master's degree, I was often the only girl in the class and definitely the only Latina in the class. It felt like kind of imposter syndrome," she shares.
Her girls, who have no background in engineering, started out getting help from Gomez but soon became independent, turning to YouTube and Google for assistance. One of the teens, Chelly Chavez, learned the programming language C++ in order to complete the tent, which contains button-powered lights, USB ports, and a micro-USB port.
The project didn't just take ambition, compassion, and ingenuity, it also took a lot of time and hard work.
The students never stopped working after school, six days a week, even during their winter and spring breaks. Creating the tent required coding, sewing, soldering, and plenty of testing. They created two prototypes, one of which was destroyed through rigorous testing. Because what is the point if the tent doesn't work?
Once they were satisfied, they had to get to MIT to present their project, for which they had to raise an additional $15,000 dollars to fly cross country to Cambridge. In the meantime, they got noticed and were interviewed by Ryan Seacrest on his radio show. They hope what they're doing inspires other girls to get into science as well.
"We're the only two junior girls in our AP Calculus class, which has way more guys than girls," Paola Valtierra says about herself and DIY teammate Kassandra Salazar. "But we're gonna change that."
This article was originally published on