Allyson Felix Breaks Usain Bolt's Medal Record 10 Months After Giving Birth
by Christina Marfice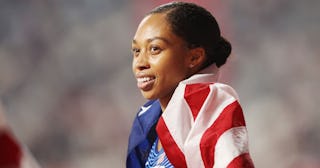 Patrick Smith/Getty
Allyson Felix didn't let an emergency C-section stop her from becoming a record-breaking runner
Winning 11 gold medals at IAAF World Championship track and field events is no small feat. Up until this week, only two people had ever managed to do it: world renowned Olympian Usain Bolt, and Allyson Felix.
But Felix no longer has to share that record. At the World Championships in Doha, Qatar, this week, she and her team won gold in the mixed-gender 4×400 meter relay, setting a world record for their time in the process. But that gold medal means Felix has surpassed Bolt and now holds the world record for most World Championship medals, with 12 to her name alone. Oh, and she did it just 10 months after giving birth to her daughter via an emergency C-section.
https://www.instagram.com/p/B3Ah9AUByxC/?utm_source=ig_embed&utm_campaign=dlfix
To say this year has been a rollercoaster would be an understatement. Felix's daughter Camryn was born in November 2018. She was premature and required an emergency C-section, which obviously took Felix out of training for a while. Then, she spent months in intense contract negotiations with her sponsor Nike, who refused to agree not to financially punish her if she wasn't able to perform at her absolute best in the months after giving birth. Yeah, that really happened. The woman had an emergency C-section, and Nike wouldn't agree not to stop paying her because of it. If you're sighing "WTF" to yourself, you're not alone.
But joke's on Nike, because Felix is back in training now as the first sponsored athlete for Athleta, and she has her eye on the 2020 Olympics in Tokyo with her husband and daughter cheering her on from the stands at every race.
"It was really special," Felix told NBC in a post-race interview after her team won the gold medal in the relay. "It's been a crazy year for me, so just to be here to be running with this great team, I just feel so blessed."
Before the race, she shared on Instagram how glad she was to have her little girl there with her. "Cammy is 10 months old today. Figuring out this mom life. I've had to fight a lot this year- for my health, for my daughter, for women & mothers, for what I deserve and for my fitness. I'm really proud to be at my 9th world championships and this one is extra special because my baby girl is in the stadium to watch it all," she writes.
Even though she's winning and breaking world records, Felix added that she still has "got a ways to go" and that she's "just grateful to be healthy, to be working my way back. It feels good."
https://www.instagram.com/p/B0Oyc9SHAd8/
We can imagine that breaking records also feels good, and as she continues her comeback, we'll absolutely be cheering her on, along with moms everywhere. It hasn't been long since giving birth would be considered the absolute end to an elite female athlete's career, but now we have women like Felix and Serena Williams who are proving that idea wrong every day. Women can do anything. Just watch them and see.