This Farm In The English Countryside Lets You Do Yoga With Alpacas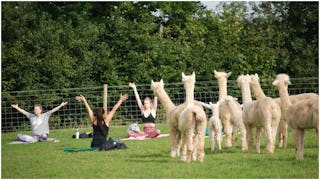 Image via Rosebud Alpacas
If you head to a farm in England, you can do yoga with a pack of alpacas
Ever dreamed about doing yoga with a bunch of very cute, very friendly alpacas? No? Well, your priorities are about to change ASAP. There's an alpaca farm in England that offers yoga with their animals – so prepare to book a one-way ticket to the UK immediately.
Here's the whole fluffy deal. Rosebud Alpacas, a farm located in South Molton, offers up the very intriguing opportunity to practice yoga alongside their wooly residents. That means you'll be working on your chair pose as alpacas mill about, occasionally coming over to say hello. The farm's co-owner, Nick Aylett, told Metro that guests can expect a "unique experience" that is "great for mind, body and soul."
I mean, just look at these alpacas. Don't you feel happier and more whimsical already?
Co-owner Lucy Aylett also noted to Country Living that being around all these animals will bring visitors some much-needed zen.
"I just know from being around alpacas that their calming presence reduces stress. They like you to be calm around them so naturally you drop your energy levels and relax," she said. "During alpaca yoga, the alpacas are inquisitive but also relaxed so it appears to be beneficial to all involved."
After you're done with your yoga class, you can hang out with your new fluffy friends during an alpaca walk, an alpaca picnic, and an alpaca art session. Plus, Rosebud Alpacas is the first place in the UK to offer Alpaca Tai Chi – so you're probably gonna want to put that on your schedule as well.
'It's a place where people can come to escape, take time out from technology and busy lives, a chance to spend time connecting with the land, the animals and each other," Nick told Metro. "Our dream is for this place also to be a sanctuary for people to come and feel at home as well."
Also, he noted, the alpacas are "raised ethically with freedom of choice, their welfare being paramount."
Welp, I'm officially sold. Nobody talk to me until after I'm done with my alpaca yoga class (and the art class and the picnic and the tai chi).
This class joins a trend of animal yoga, which includes goats, puppies, and horses (yup, horses). While it doesn't look like there's any real scientific backing behind the benefits of doing yoga with furry creatures, it does have a high chance have making you pretty happy.
"It doesn't surprise me that the innocence of animals is something that people want to connect with," Guru Jagat, a Kundalini Yoga Master, told Shape Magazine. "Everything's just gotten so complicated and denatured that we covet anything that reminds us of simplicity and innocence."
That makes it official. None of us should take a yoga class again unless it involves at least one goat coming over to say hello.
This article was originally published on