Alton Brown Is Having A Relatable AF Pre-Election Breakdown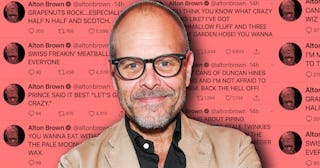 Alton Brown/Twitter and Paras Griffin/Getty
Brown is all of us trying to get through this election week
On Monday afternoon, celebrity chef and Food Network star Alton Brown had a sort of pre-election breakdown on Twitter that we're likely all feeling right now — and it centered (as it rightly should be) on what he's planning to eat and drink while waiting for election results.
Brown kicked off his tweet-storm innocently enough yesterday late afternoon by tweeting, "So, #QuarantineQuitchen will be live tomorrow night at 8pm on YouTube. What should we cook (and more importantly drink) to get through the night?" This was quickly followed by, "No matter what happens tomorrow, we'll still have tiny chocolate doughnuts." Seems reasonable.
Then Brown went hilariously off the rails in a series of tweets that sums up how many of us are planning to make it through the day, and likely the week. "I'm seriously thinking about @LittleDebbie #NuttyBars and cigarettes. Honestly, like at the same time," The Good Eats host wrote. Minutes later, he seemed to answer his own questions with: "So many Food Network people are like 'oh, I'm going to braise short ribs in elderberry jam…' Screw that," Brown said. "I'm going to mainline moon pies and snort cheese powder!" No shame in that game.
For the next 40 minutes Brown channeled all of America by posting his random thoughts such as, "YOU THINK YOU KNOW WHAT CRAZY LOOKS LIKE? I'VE GOT MARSHMALLOW FLUFF AND THREE FEET OF GARDEN HOSE! YOU WANNA DANCE?" and "MURDER HORNET FONDUE."
He continued to outdo himself and posted by personal favorite, "I'M TALKING ABOUT PIPING SPAGHETTIOS INTO STALE TWINKIES AND EATING THEM NAKED IN THE SHOWER WITH A BOTTLE OF JAEGER." I'm planning to make shrimp tacos with a side of buttermilk pancakes tonight (don't judge) but I may scrap that plan and just go with the Twinkie's.
Brown later altered his plan (or maybe added to it) and, in addition to asking his followers to go out and buy cat food, also recommended we, "Turn off the lights and run 23 Slim Jims through the juicer."
The whole meltdown is truly something to behold.
Since the COVID-19 pandemic, Brown and his wife, restaurant designer Elizabeth Ingram, have become the YouTube stars we've needed by producing a live cooking show called Quarantine Kitchen. What started on a whim because of the pandemic has now turned into a must-watch series with comments like "Vulgar Alton is the Alton we have all been waiting to arise for 20 years" being echoed by his followers.
He may have reached a pinnacle with his pre-election tweets and it's now anyone's guess what exactly they will be whipping up tonight. Brown wrapped up his rant with, "Who's with me?" followed by "I SAID WHO'S WITH ME?" so I think we should all tune in and find out.