by Darryle Pollack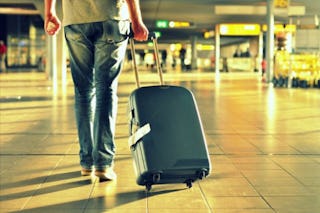 For college kids heading home for the holidays, travel over Christmas break can be torture. For parents, too.
After decades of being spoiled by California weather, winter travel terrifies me. So when my son had to travel home to California from the University of Wisconsin for his first Christmas break, I turned into the neurotic mother from hell.
I started off like a normal mother would, checking the weather forecast for his trip home.
Only I start checking two weeks before his trip. Several times a day.
Those forecasts that predict the weather by the hour must be a godsend for people who really need to know these things—pilots or boat captains or cross country truck drivers.
For people like me, it's a different ball game.
Being mid-December, no big surprise that snow is forecast to move into several Midwest states. Also no big surprise that I move into a state of worry.
Almost a week before his flight, I start checking the hourly forecast in Madison, Wisconsin, where Daniel is. I also check the forecast in Denver, where he would change planes. And in Monterey, California, where he would land.
I know the temperature. I know the wind speed. I know the humidity. I know the probability of precipitation. I know all these things in all three places on his route and exactly what problems he could potentially encounter.
This behavior is far more hazardous than the weather itself.
I admit that sometimes I wonder about sending negative messages out into the universe. Could my worrying be powerful enough to change weather patterns?
Apparently it is.
Daniel gets to the airport in Madison and finds out all flights are cancelled. All day.
Of course I'm prepared. That's the payoff for being neurotic.
While Daniel was taking his final that morning, unaware that his mother had interfered with atmospheric conditions, I spent the morning working on a backup plan.
I got the last ticket on the last flight out of Chicago to the west coast.
This new route involves a short taxi ride from Daniel's dorm to the airport in Madison, then a 3-hour bus trip into O'Hare in Chicago.
I call Daniel with the new plan. Since he's a sophisticated and extremely responsible kid, now I can sit back and relax, and pick him up at the airport in San Jose that night.
Only that's not what I actually did.
The internet is a minefield for the neurotic. So much information is just a click away.
I see that some flights in Chicago are delayed. I see weather warnings about fog rolling into Chicago. Fog means a problem not just at the airport but on the highway. Where Daniel's bus is.
Add in the likelihood of heavy holiday traffic on the roads – and this combination clearly spells a-c-c-i-d-e-n-t-s. (You can't verbalize these things.)
Possibly, Daniel isn't even on the bus yet and could stay an extra day in Madison. That would avoid the potential c-r-a-s-h awaiting his bus on the highway to Chicago.
(Thank God I don't live in a snowy climate. The mental activity would be exhausting.)
I know the pitfalls of over-parenting; and I've learned to limit my calls and texts. Plus Daniel mentioned his phone battery was low.
I also try not to allow my neurotic thoughts to leach out of my brain and pollute my children.
But sometimes there are setbacks.
It's been barely an hour since I spoke to Daniel when I start to cave.
I text him: How about waiting in Madison till the fog lifts? Skip Chicago and come home tomorrow.
No answer. Does that mean he's still in Madison? Or on the bus? Or already involved in a you-know-what on the highway?
After another hour, I'm still trying to sound like a normal mother: Just want to know where you are and what's happening.
Another half hour, the third text: I am not panicked….yet.
Meanwhile I'm still clicking. Checking the weather in Chicago. Checking the status of his flight. Checking the status of earlier flights from Chicago to San Jose.
I haven't checked with the Wisconsin Highway Patrol – but it does cross my mind.
Finally Daniel texts me back. His phone battery was low. He didn't think I would worry. He fell asleep on the bus to Chicago and didn't notice my text messages until he woke up. He's at O'Hare already waiting to board the plane home.
In other words, he did what a normal kid would do.
And finally I do what a normal mother would do. I act casual, and tell him I'll see him at San Jose airport that night.
This article was originally published on