'Always Be My Maybe' Is The Netflix Rom Com You Need In Your Life RN
by Madison Vanderberg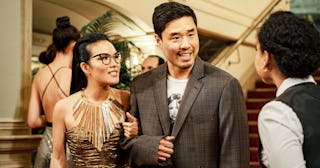 Ed Araquel/Netflix
Ali Wong and Randall Park are perfect together in Netflix's new rom-com Always Be My Maybe
Ever since Netflix dropped Set It Up over the summer of 2018, the streaming giant has become the go-to joint for those sweet, feel-good, rom-coms that Hollywood seemingly stopped making for nearly a decade. On Friday, Netflix premiered the Ali Wong and Randall Park romantic comedy Always Be My Maybe, and the internet is here for it! Always Be My Maybe tells the tale of two childhood friends who reunite as adults to rekindle the crush they once had. It's funny, it's lovely, and there's a killer Keanu Reeves cameo that we can't stop thinking about.
In the film, Sasha (Wong) is a celebrity chef who runs into her estranged childhood friend and crush Marcus (Park) when she returns to their hometown in the Bay Area to open a new restaurant. However, she's now wildly successful and he still lives at home, but as their world's collide, they can't deny that those old sparks are still there.
Wong is best known for her two breakout Netflix comedy specials Baby Cobra and Hard Knock Wife and Park is most associated with his long-running sitcom Fresh Off The Boat, though he's also in seemingly every movie and television show ever (Ant-Man and the Wasp, Aquaman, Veep, Long Shot, Trainwreck, just to name a few). Wong recently told LA Times that one of the reasons she wanted to make this movie is because it's about time the world saw Park as the romantic leading man he actually is.
"Everyone has seen [Park] in all these different things… but it's long overdue for him to be the leading man in a movie," Wong told the LA Times."And that's the reason I'm most excited about it, frankly."
The two met when Wong wrote for Fresh Off the Boat, so they linked up and wrote the script with their friend Michael Golamco. They eventually got Netflix's attention and their Fresh Off the Boat showrunner Nahnatchka Khan to direct, and it was off to the races from there.
So far, the internet has met this film with a resounding YAS.
Also, Keanu Reeves playing a bonkers version of himself has become Twitter's new favorite GIF.
Yes, the film is funny and sweet, but the authentic Asian-American representation in this film is really resonating with audiences who rarely get to see Asian characters as thriving, multifaceted, and complex romantic leads.
Also, Wong's glasses are just **kisses fingers like an Italian chef** absolute perfection.
The film also includes a breakout performance from actress Michelle Buteau — who plays Sasha's personal assistant — and after this and Buteu's scene-stealing lines in Netflix's other recent rom-com Someone Great, Buteau is about five seconds away from becoming a household name.
If you're looking for something to lift your spirits and just generally make you feel great, check out Always Be My Maybe, currently streaming on Netflix.