Amal Clooney And Actor Husband Welcome Twins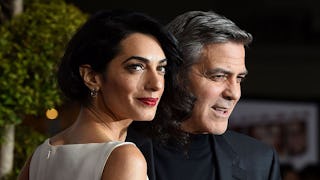 Image via VALERIE MACON/AFP/Getty Images)
Amal Clooney and her husband are now the parents of a baby boy and girl
Well, folks, it's here. The twin baby arrival we've all been waiting for. No, I don't mean Beyonce's twins, because Beyonce's children are not mortal and demi-gods and goddesses take a little longer to bake. But Amal Clooney — human rights lawyer, professor, and award-winning philanthropist is officially a mother. Amal and her actor husband, One Fine Day's George Clooney, welcomed twins Ella and Alexander earlier today.
People magazine broke the news with a statement from Amal's husband: "This morning Amal and George welcomed Ella and Alexander Clooney into their lives. Ella, Alexander and Amal are all healthy, happy and doing fine. George is sedated and should recover in a few days."
Twitter is abuzz with the happy news. The Anne Frank Center sees your "Omg George is a father!" reactions and raises you THIS:
The Clooneys confirmed they were expecting twins back in February. George, also known for stints on ER and The Facts of Life, alluded to People that naming the kids would mostly be up to Amal, which is a kind of a minuscule task when you compare it to confronting the Iraqi government on its incompetence in investigating ISIS for genocidal crimes. Which is, you know, just an average Thursday for Amal Clooney.
Also, let's just take a moment and offer up a relieved thanks to Amal for not following the typical Hollywood child trend of giving them names like "Jedi Whitefish" or "Archipelago Smithsley." Ella and Alexander are like a breath of fresh English countryside air.
Many congratulations to Amal and her husband, that guy from Intolerable Cruelty.