Amanda Gorman & Kamala Harris's Stepdaughter Land Modeling Contracts After Inauguration
by Madison Vanderberg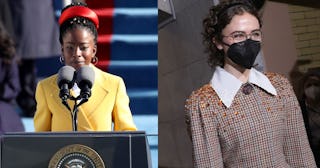 Rob Carr/Getty Images/Win McNamee/Getty Images
Poet Amanda Gorman and Kamala Harris's stepdaughter Ella Emhoff both land modeling contracts after the Inauguration
Joe Biden and Kamala Harris's 2021 Inauguration was groundbreaking for a number of reasons. The 2021 Inauguration proved that democracy does work, Kamala Harris made history as the first ever female Vice President, the world was introduced to the work of the great poet Amanda Gorman, and — it was the day that Gorman and Kamala Harris's step-daughter Ella Emhoff pivoted to modeling careers, which is just a fun little bonus thing that happened to these cool and talented young women as a result of the Biden administration.
Though 22-year-old Gorman is still, and most importantly, a writer, a Harvard grad, and the first person to be named National Youth Poet Laureate, she is also totally stunning and after her appearance at the Inauguration, landed a contract with IMG Models, who represent a few little models you might have heard of like Gigi Hadid, Kate Moss, and Gisele Bundchen.
But Gorman isn't the only budding supermodel in the Inaugural mix. Harris's step-daughter Ella Emhoff (who has already become a Gen Z darling for her stylish Inauguration look) is a 21-year-old college student studying fashion design at Parsons School in New York, and she also landed an IMG models deal this week.
"Ella communicates this moment in time," Ivan Bart, the president of IMG Models, told the New York Times about Doug Emhoff's daughter. "There's a cheekiness and a joy she exudes."
Bart said her inauguration look was "communicating fashion" and that was enough to reel in the agency and extend an offer to the college student. Ella told the Times that "like a lot of young girls out there, [I] had self-confidence issues, it is intimidating and scary to go into this world that is hyper-focused on you and the body," but says she hopes to change those stereotypes as a model with her "really weird tattoos and kind of a funky haircut."
As for Gorman, she took the U.S. by storm when she recited her original work "The Hill We Climb" on January 20, 2021 and The Hollywood Reporter states that IMG Models also raced in to scoop her up with plans for "brand endorsements and editorial opportunities," which won't be hard because that iconic red headband she wore at the Inauguration? Yeah, it sold out immediately after the inauguration.
Next up for Gorman is the Super Bowl, as she becomes the first ever poet to perform at the yearly football event. She will perform before the official coin toss, reading a poem that will recognize an educator, a nurse, and a veteran for helping their communities during the coronavirus pandemic. As for Emhoff, she tells The New York Times that she hopes that if modeling raises her profile, she can use to it raise awareness for the sustainable fashion industry and the work she does within the queer community.