Amazon Is Offering Free Shipping To ALL Customers For The Holidays
by Julie Scagell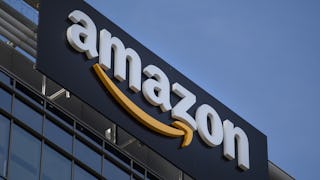 Image via Jaap Arriens/NurPhoto
This is the largest selection of items to be shipped free, says Amazon
If you've not jumped on board the Amazon Prime train yet, have we got some good news for you. The company announced this morning that for a limited time, they are offering free shipping to non-Prime members on orders arriving in time for Christmas. There really is a Santa Claus.
Though they haven't said when it will end, beginning today, November 5, millions of items will be shipped for free with no minimum purchase to family, friends, (or let's be honest, to yourself) — so run, don't walk, to a computer/phone/iPad/electronic device and get shopping.
"This holiday, customers can enjoy free shipping with no minimum purchase amount on orders that will arrive in time for Christmas, including items from Amazon's expertly curated Gift Guides across electronics, fashion, home and toys," said Doug Herrington, Senior Vice President of North American Retail at Amazon. "With hundreds of millions of items available for free shipping to all Amazon customers and more than three million items available with Prime FREE Same-Day Delivery, customers can enjoy the largest selection of items that are fast and free."
According to the e-commerce giant, it's the largest selection of items available to ship free in the country; millions of products are being included like toys, electronics, home goods, arts and crafts, clothing items and more.
And if you're already a Prime member and thinking, "Lame, there's nothing in it for me," hold onto your Christmas stockings. Prime members can now shop for same-day shipping on over three million new items. That's million, with a three in front of it. Amazon's also saying this is their largest selection of same-day shipping items in the U.S. they've ever had.
My husband informed me the other day as he was looking (frowning) at our finances that Amazon is #1 on our "Most Purchased From" list this year. And that's before this little announcement here. If I were a betting woman, I'd say that total is going to increase exponentially by week's end.
But wait, Prime members, there's more. Members in more than 60 cities can get delivery in as little as an hour from Whole Foods through Prime Now. Feeling like you need tubs and tubs of ice cream to get through Election Day tomorrow? Amazon has you covered.
What a time to be alive.