These Beauty Products On Amazon Prime Have A Cult Following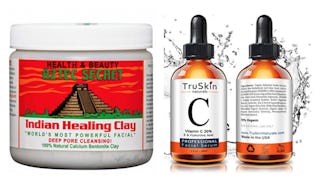 Images via Amazon
These beauty products on Amazon Prime have a major cult following and you're going to want them all
Shopping for beauty products online is a constant gamble. There's always a very, very good chance that you'll hate whatever you buy and then have to go through the whole irritating return process. If you want to cut your losses, I would like to direct your attention immediately to the bestselling section of Amazon Prime.
Every beauty product on there has been given glowing reviews, which means you can probably bet on some seriously flawless skin.
Okay, so what's the deal with this ridiculously popular healing clay? It's actually a deep pore cleanser that dubs itself "the world's most powerful facial" (yup, my ears have already perked up). This clay will target all those icky impurities and can be used all over your body. You can even use it for a clay bath…because we could all probably use a clay bath right about now.
There is no worse blow to your self-esteem than waking up to a large, unsightly pimple. The COSRX pimple patch will speed up the healing process, reduce redness, extract impurities, and seal in hydration. The reviews include the words "works like a charm" and "best pimple patches ever," so I can safely say we're in good hands.
Speaking of unsightly, there's also no worse blow to your self-esteem than yellowing teeth – despite all your diligent brushing (well, mostly diligent). Cali White is packed with whitening and detoxifying ingredients like Activated Charcoal and Coconut Oil, which will give you all the dazzle. The reviews include the words "amazing" and "blown away," so the chances of getting pearly whites are definitely in your favor.
This bad boy is a #1 bestseller in Amazon's facial moisturizer department for a reason. It's packed with ingredients that will make your skin very happy like Hyaluronic Acid, Vitamin E, and Green Tea. Also, it'll go to work on pumping up your skin without causing flaking or dryness. Halle-freaking-lujah.
The secret to getting rid of all that eye bagginess? Apparently it comes down to Baebody Eye Gel. The product is made from Peptide Complex, Matrixyl 3000, and Vitamin E, which works together to combat those dark circles. You'll look extremely rested every morning (even though you probably clocked way, way less than eight hours).
Vitamin C is the best multitasker. It brightens your skin, reduces fine lines, helps get rid of sun spots, and tightens everything up. The only thing more glowing than a face full of Vitamin C? The Amazon comment section about this serum. Seriously, people love it.
Um, so, nobody likes to talk about it but sometimes feet can start to smell. A lot. This tea tree oil foot wash promises to fix that situation. There's seven essential oils that'll soften the skin and reduce all that odor. Many, many reviewers on Amazon were highly grateful.
There are few things more satisfying than removing a blackhead. Yes, it's a little gross…but what a gross thrill it is. This kit is a #1 bestseller in the blackhead remover department and comes complete with tons of positive reviews. Let the gunk removal BEGIN.
Here's to a new season filled with pimple removals, luxurious moisturizers, and all the good smelling foot lotions. It's been a long, pretty awful year – we all deserve it.
We are a participant in the Amazon Services LLC Associates Program and may earn fees by linking to Amazon.com and affiliated sites.
This article was originally published on