Amazon To Customers: That Hoverboard You Bought? Throw It Away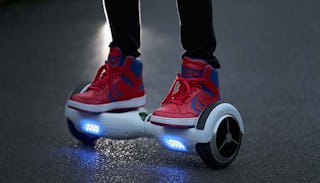 KNUTSFORD, ENGLAND - OCTOBER 13: A youth poses as he rides a hoverboard, which are also known as self-balancing scooters and balance boards, on October 13, 2015 in Knutsford, England. The British Crown Prosecution Service have declared that the devices are illegal as they are are too unsafe to ride on the road, and too dangerous to ride on the pavement. (Photo by Christopher Furlong/Getty Images)
Amazon tells customers to recycle the faulty boards and offers a full refund
Weeks into the holiday shopping season, Amazon did something remarkable: they pulled one of the hottest selling toys of the season off their site. Now, the company is going even further to prevent the thousands of faulty recreational items from causing more harm than they already have: they're telling customers to get the hoverboards to an electronics recycling center ASAP, and offering full refunds within three days.
Hoverboards exploded in popularity months ago, probably because kids love new contraptions that are certain to cause bodily harm. The boards resemble a skateboard, but they have a motor that enables riders to just stand there whilst moving forward. (Actual exercise is so 2012.) They're kind of like a poor man's Segway, but without the handle bar for balance. As for their name, who knows why they're called "hoverboards" — they definitely don't hover.
Unfortunately, when hoverboards exploded in popularity, they actually also started exploding. Quartz reports "many of the boards are built in China, where an effort to get them into the hands of eager customers across the world seems to have prevented many of the boards from getting built to the highest manufacturing standard." Turns out faulty charging plugs are causing them to heat up and combust. Multiple house fires have been reported in the UK. One exploding at a Washington mall was caught on video:
A woman in Alabama blamed a hoverboard for a fire that destroyed her home. A man in Louisiana claims one caught fire while he was riding it. It also turns out that mixing a cheaply-made skateboard-like device with a few holiday cocktails is a terrible idea. Several people tweeted about broken wrists and other injuries on Christmas day. And dads? Dads made epic fools of themselves on social media trying out the devices they'd bought for their kids:
Amazon issued an email apology for selling the faulty product with instructions on how to recycle the device and a guarantee that those sold with non-compliant plugs would be refunded within three days. And hoverboards will go down as the biggest gift fail of 2015.
This article was originally published on