American Girl Is (Finally) Releasing A Boy Doll!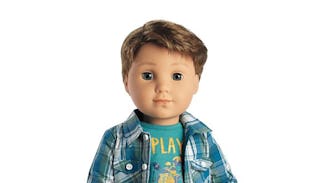 Boys can play with dolls, too, and American Girl just took a step toward recognizing that
American Girl is making history this week — and making playtime a whole lot more inclusive.
The company just announced that among the lineup of new dolls being released Thursday will be Logan, its first ever boy doll. Logan is a drummer from Nashville, Tennessee, and a bandmate for Tenney, another new doll in the collection. According to his bio on American Girl's website, "Tenney and Logan challenge each other to grow as musicians, and their partnership teaches girls the importance of being open to collaboration and compromise."
"Adding a boy to our lineup has been a number one request for a very, very, very long time," American Girl public relations director Julie Parks told the Huffington Post, adding that parents and kids alike have long been asking the company for characters with "more experiences, more diversity, more interests."
"For a long time, we've been hearing, 'We want more,'" she added.
Logan joins an already historically diverse lineup of girls. Among them is Gabriela, an African-American doll who, according to her books, uses spoken-word poetry to tackle her stutter. Z Yang, a Korean American doll featured on American Girl's YouTube channel, will also premiere in the coming months, and in fall, American Girl plans to introduce a historical Hawaiian doll named Nanea. For fans of the original American Girl dolls, Felicity, the Revolutionary War doll, is being reintroduced this year.
Logan's introduction is particularly historic for the implication that American Girl is embracing the idea that dolls are for all kids, not just girls, and it shows in the comments on American Girl's Facebook page. The top comment is from a male collector of the dolls, who wrote, "I need to say thank you to American girl as I have been collecting these since I was six so 12 years in total and I'm a male and finally we have a boy doll… Thank you."
But the American Girl website still has a ways to go — its language includes only girls, even in the announcement that a boy doll is joining the lineup.
"For more than 30 years, girls have met and fallen in love with American Girl characters — both historical and contemporary," it reads. "If your girl has been hooked by their inspiring stories and imaginative products, then she's really going to love 2017."
Hey, American Girl, boys can fall in love with your characters, too. Logan is a good first step, but it's well past time to recognize that dolls are toys for all kids who love and want them, regardless of their gender.
This article was originally published on