American Girl Introduces First Ever Korean-American Doll And She's Cooler Than You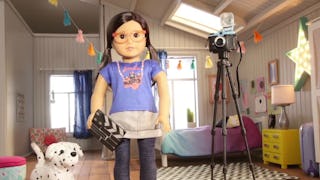 Image via American Girl
Meet Z, the brand new Korean-American American Girl doll with a hobby much cooler than yours
There's a new American Girl doll coming to the block and she's so awesome that you may be the one begging your kids to play dolls. Z Yang, short for Suzie, (cutest nickname ever!) is making her debut on April 27th.
She's the first Korean-American doll in the company's contemporary line of dolls, proving that for this company at least, inclusivity and representation of all girls from diverse backgrounds matters. She joins Girl of the Year Gabriella, country singer Tenny, and rocker boy Logan as the company's newest additions. A Native Hawaiian doll named Nanea Mitchell will be released later this year.
Fans of American Girl may already recognize Z from the brand's popular web series, Z's Crew. Z's a stop motion vlogger from Seattle. Her backstory shows that American Girl really pays attention to the details of their products, and we're not just talking about underwear. "We made Z Korean-American because it's an ethnicity we haven't featured before in our character lineups," American Girl spokesperson Stephanie Spanos told PEOPLE. "And, in our research, we found there was a significant Korean-American population living in Seattle, where Z is from."
Z's interest in vlogging is a nod to the fact that most kids these days are internet savy and using their phones for way more than just texting. "Like many girls today, Z expresses herself through her art—creating stop motion videos, documentary films and creative storytelling," Spanos says. "Other inspirational themes in Z's story that make her special and relatable include her strong connection with friends, her desire to express herself and her sense of humor." Her books with encourage kids to dive into creative computer based hobbies like film and video making.
With a fun scarf, comfy looking jeggings and a cute pair of bright orange hipster frames, we kind of wish Z's outfits and accessories came in our size.
It's great to think that with the introduction of Z, more little girls will be able to find themselves within the American Girl dolls. And the introduction of a Korean-American doll gives kids from other backgrounds the chance to learn more about people that aren't exactly like them. "We think of our dolls and books as both mirrors and windows," explains Spanos. "When girls own a doll that looks like them it provides a sense of belonging—a mirror where they can see reflected, among other things, a familiar-looking face or a unique culture. Equally important, though, is the idea that a doll that may not look like her owner, can become a window into other cultures and backgrounds from which to learn and grow."
This article was originally published on