American Girl Released An XBox Gaming Set For Dolls And We're Here For It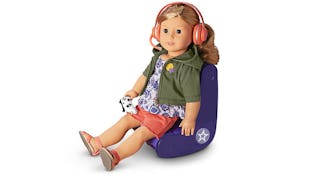 Image via American Girl
Gaming shouldn't be gendered and American Girl shows that they agree by releasing a new Xbox gaming set for their dolls
Since the 1980s, American Girl has been creating products that are educational, diverse, and culturally sensitive — from making bald dolls for kids with cancer to offering diabetic care kit accessories. They're continuing the trend this summer by releasing accessories for their coveted dolls that shatter gender stereotyping and make certain that anyone playing with their products knows that hobbies, jobs, and pastimes doesn't have anything to do with your biological sex.
Their newest offering? An Xbox gaming set that's for any kid who likes to play, girl or boy.
The new Xbox gaming set includes a doll-sized Xbox One S and Xbox controller (which can be clasped to the doll's hand), along with two discs that can be inserted into the console. The console projects ten gaming "scenes" onto the wall. The set also includes a pretend doll headset and a faux leather gaming chair that doubles as a speaker (you just have to plug your wireless device into the chair to play music or other sounds).
The set does not come with a doll itself, but nothing about the set is gendered (the headset is orange, the chair is purple) and the website pictures the set with both boy and girl dolls playing games.
Also in line with American Girl doll tradition, the quality of the set is high, but is also a bit spendy, at $50 for the accessories (the dolls are $115).
Yes, this accessory's existence probably has a good amount to do with the fact that Microsoft and American Girl made a profitable deal — and also so that American Girl can market this set to both boys and girls, potentially growing their base. But honestly, we don't care why it exists as much as we care that it exists.
The response to the new gaming accessories has been positive overall, with gamers and non-gamers alike agreeing that the set is both for girls who love gaming and for those who had never before thought that it was a welcoming space for them.
While the company has always been about education and diversity, American Girl dolls have come a long way since their beginning. The website also has other non-gendered accessories aside from the Xbox gaming set, like a skate park, a basketball set, and a Mars space station. We hope the trend continues — and that maybe the video game industry as a whole continues to be more and more welcoming to girls and other non-traditional gamers.