American Girl + Xbox Collab To Celebrate Girls In Gaming
by Valerie Williams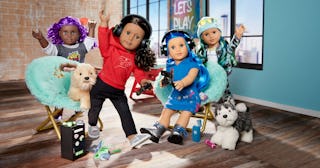 American Girl
America Girl and Xbox are rolling out a set to celebrate girls in gaming
If you have a daughter who is a big fan of playing video games (and loves dolls), we have exciting news. American Girl is collaborating with XBox to celebrate girls in gaming and the set they're rolling out will be a huge hit with girls who enjoy video games.
"American Girl and Xbox are teaming up to break down the outdated notion of what a "gamer" looks like—more than 214 million people in the US play video games and more women are gaming than ever before (41%)," a press release from American Girl reads. To that end, the company is debuting a new gaming set and outfit to fit their dolls on June 10.
The adorable set includes an 18" doll scaled version of the Xbox Series X console, two Xbox game discs, a headset, two Xbox Wireless Controllers, a faux cell phone, a pretend Xbox Game Pass card, an American Girl branded chair, water bottle, candy box, fidget spinner and sticker sheet to customize the Xbox Series X console and a 30-day Xbox Game Pass Ultimate code.
The gamer girl outfit features a red hooded sweatshirt with an Xbox Wireless Controller graphic on the front, black denim jeans, and canvas sneakers to fit an 18" American Girl doll.
American Girl has countless sets for just about every interest a child could possibly have. Seeing them continue to grow and adapt to what modern kiddos are into is pretty exciting for us moms who grew up playing with the dolls too. And AG definitely still sees us Millennial mommas based on their recent announcement that they're bringing back the original six dolls we all know and love. Samantha Parkington, Kirsten Larson, Molly McIntire, Felicity Merriman, Addy Walker and Josefina Montoya are currently available for purchase.
The gaming set and outfit will all be available in the U.S. and Canada (AmericanGirl.com, 12 American Girl stores in the U.S. and at Indigo, a bookstore chain in Canada).