Study Shows COVID Vaccines May Have Saved 279,000 Lives In The U.S.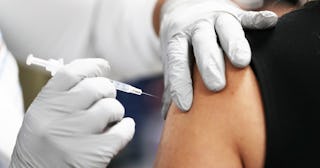 Joe Raedle/Getty
A new study shows that COVID-19 vaccines may have saved 279,000 lives in the U.S. alone
As COVID-19 cases continue to rise in at least five U.S. states, with the biggest surges occurring in under-vaccinated states like Florida, Louisiana, Arkansas, Missouri, and Nevada, it's clear that the virus is still very much a threat, particularly to people who are not yet fully vaccinated.
In a much-deserved breath of fresh air, however, there is some positive news coming from a joint study led by the Yale School of Public Health (YSPH) and the Commonwealth Fund. Researchers recently revealed that the U.S. vaccination campaign has prevented up to 279,000 COVID-19 deaths among Americans alone, with the swift rollout that began at the end of last year effectively preventing what researchers call a "spring surge" that would have led to around 4,500 deaths per day.
The authors note that at the height of the pandemic in January — before the vaccine was widely available to Americans — the U.S. saw a rate of 4,000 deaths per day. The number of positive cases has fallen from more than 300,000 per day back in January to less than 20,000 per day in mid-June, with cases declining even as several variants began spreading worldwide.
Researchers examined both vaccination data and case trajectories from October 1, 2020 through July 1, 2021, accounting for the emergence of more contagious variants (Alpha, Gamma and Delta) in recent months, the study notes. They also compared health trends with two hypothetical scenarios — one in which no vaccination program was administered and one in which only half as many daily vaccinations were given — with their findings discovering that around 279,000 lives have been saved and 1.25 million hospitalizations prevented as a result of the vaccine rollout in the first half of the year alone.
"This underscores that the swift vaccine rollout in the U.S. averted a remarkable number of cases, hospitalizations and deaths, despite the emergence of highly transmissible variants like the delta variant," said Dr. Alison Galvani, lead author of the study and a professor of epidemiology at the Yale School of Medicine.
"The vaccines have been strikingly successful in reducing the spread of the virus and saving hundreds of thousands of lives in the United States alone," she added, emphasizing that deaths and serious illness will continue to occur as more and more eligible people decline to get their shot. "Until a greater majority of Americans are vaccinated, many more people could still die from this virus. The danger is not over. Now is not the time to let down our guard."
It really is crucial for anyone who is able to get their vaccine as quickly as possible. With the U.S. alone seeing a 47% spike in new cases (19,455 new cases over the last week, according to CNN), plenty of extremely ill patients are being put on ventilators in hospitals each day — all of which are "completely avoidable," according to CNN's medical analyst Dr. Jonathan Reiner. The TL:DR — protect yourself, your loved ones, and everyone else you come into contact with and get your vaccine as soon as you can.