White Woman Who Called Cops On Black Bird-Watcher Has Case Dismissed
by Julie Scagell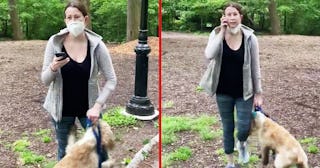 Christian Cooper/Facebook
"Central Park Karen" Amy Cooper falsely accused a Black man of threatening her life
Prosecutors have dropped the case against Amy Cooper, the white woman who called 911 on Black bird-watcher Christian Cooper (no relation) in Central Park after falsely accusing him of threatening her last spring, the New York Times reported.
Ms. Cooper's attorney asked for the one count of filing a false report to be dismissed because she, "completed a therapeutic educational program that included instruction about racial biases." The prosecutor, Joan Illuzzi, said Ms. Cooper's therapist reported that their five sessions together were "a moving experience" and that she "learned a lot."
Ms. Cooper's lawyer, Robert Barnes, thanked the Manhattan district attorney's office for what he called "a thorough & honest inquiry" on Twitter. "We thank them for their integrity and concur w/ the outcome," he wrote. "Others rushed to the wrong conclusion based on inadequate investigation & they may yet face legal consequences."
In May last year, Ms. Cooper called the cops on Mr. Cooper in Central Park. Mr. Cooper had asked her to leash her dog, as it is against the law for dogs to go unleashed in the Ramble part of Central Park where Mr. Cooper was birdwatching. Not only did she refuse, but she lied to police saying that Mr. Cooper threatened her. "I'm going to tell them there's an African American man threatening my life," she can be heard saying in the now-viral video of their interaction.
The video was rightly used by the Black Lives Matter movement as an example of racism.
While nothing happened to Mr. Cooper, her actions could have cost him his life. And now charges are being dropped because she took a class. It's just one more example of the inherent privilege and skewed legal system that allows these types of occurrences to continue to happen. Imagine what could have happened had he not had video evidence of their interaction?
The incident occurred the same day George Floyd was killed in Minneapolis as a white police officer pressed his knee into Floyd's neck until he died. Video of Floyd's death, in addition to Cooper's case and many others, led to months of unrest and protests across the country demanding for justice to be served.
Cooper issued a public apology after her arrest last year, to which Mr. Cooper responded, "I do accept her apology. I think it's a first step. I think she's gotta do some reflection on what happened because up until the moment when she made that statement… it was just a conflict between a birder and a dog walker, and then she took it to a very dark place. I think she's gotta sort of examine why and how that happened."
The DA continued with the case last year, saying in part the case "wasn't solely against one individual but was a threat to the community if allowed to go unchecked."